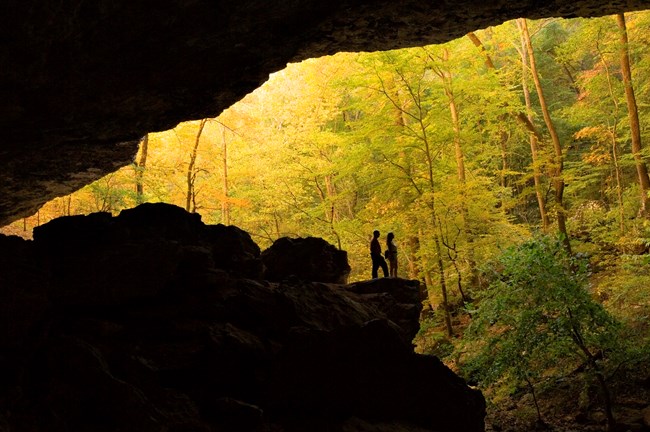 Karst Topography
The Buffalo National River has more than 500 caves within its boundaries. The Ozark Mountains are known to have one of the largest karst networks in the mid-west United States. Karst systems are a type of topography that is formed upon or in contact with rock units of limestone and dolomite. These units are formed, most typically, by the dissolution of calcium carbonate by water as it percolates down from the surface into the cracks and fissures of the rock unit layers.
Karst systems in the Buffalo River drainage are associated with the Boone Formation. The Boone Formation is composed of limestone of the Mississipian age, and has intermittent chert layers near the top and bottom of the formation. Typically most of the larger cave systems are found in and near the upper and lower contacts of the Boone. However, some of cave systems have passages that go into the upper (Mississipian and Pennsylvanian) and lower (Ordovician) stratigraphic layers. To learn more about how the Ozarks formed and the geology of the Buffalo River Valley visit the park's Climate and Geology page.

To view some beautiful karst topography on your own consider a hike to Lost Valley or the Indian Rockhouse. Both trails feature waterfalls, bluff shelters, disappearing streams, and sinkholes.
Caves and White Nose Syndrome
One of the largest cave systems in Arkansas is Fitton Cave. Fitton Cave is open to experienced speleologists only, and a permit issued by the park geologist is required before entry. Besides the caves at Lost Valley and the Indian Rockhouse at Buffalo Point, all caves at Buffalo National River are currently closed to the public due to White Nose Syndrome, a fungal disease that has decimated bat populations in the eastern United States in recent years. White Nose Syndrome (WNS) is caused by a fungus that attacks bats' wings, noses, and ears while they are in hibernation. The white-nose fungus depletes the bats' energy reserves and causes them to prematurely awake from hibernation. Early awakening and excessive movement ultimately lead to the death of most affected bats. The fungus is transferred extremely easily from bat to bat and by clothing and boots that have been exposed to the fungus. This is one reason why most caves and mines at Buffalo National River are closed to the public.

TEMPORARY CAVE CLOSURES!
"A low level of the fungus that causes white-nose syndrome in bats has been detected in two north Arkansas caves" according to a press release from the Arkansas Game and Fish Commission. The full press release may be found on the AGFC website.
New "Bats in Crisis" video is now available. Links to videos and additional information are in the press release.