Volunteer
Volunteers-in-Parks (VIPs) are essential members of the National Park Service (NPS) family, as they help Buffalo National River staff achieve the NPS mission and park operational goals. By demonstrating shared stewardship for America's public lands, volunteers set the example for future generations while ensuring safety, access, and enjoyment for today's park visitors.

If you would like to volunteer, please contact the VIP Coordinator at e-mail us. Tell us about your volunteer goals and interests, and we'll match you with a meaningful opportunity to lend a hand at Buffalo National River. All volunteers should report their work hours and accomplishments to either the VIP Coordinator or supervisor.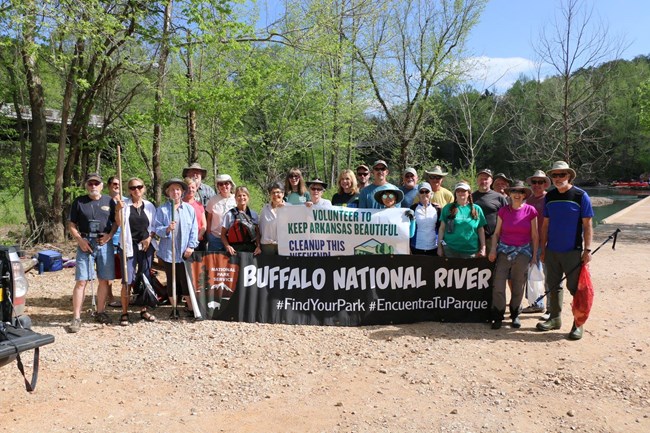 The
Buffalo National River Partners
host a variety of volunteer opportunities including river cleanups, invasive plant removal, trail maintenance, elk education, and more. Check out their website for upcoming opportunities.
Individuals may also join the
Adopt Your Adventure Program
by choosing a section of river or trail to maintain on a long-term basis. With 128 trail miles and 135 river miles to explore, there are opportunities for people of all skill levels and abilities to help. From easily-accessible boat launches to technical backcountry terrain, adopted areas should be checked and maintained at least 3 times per year. Litter pickup, trimming vegetation, and documenting major damage or obstacles to park staff are the primary responsibilities of trail and river adopters. Find out more by contacting the VIP Coordinator:
e-mail us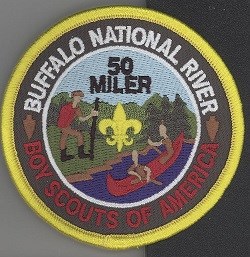 Buffalo National River 50-Miler Patch
This patch is awarded to all Scouting and Venture group members that complete a 50-mile float/hike and an approved 10-hour service project within 10 consecutive days.

Requests should be sent to the VIP Coordinator: e-mail us

The initial request should include tentative dates, put-in and take-out locations, total number of participants to include child/adult ratio, group representative with phone number and email address, any logistical needs of the group that might be facilitated by the park, and if you would prefer the awards to be presented in person or mailed after the completion of the trip.
The trip report should be submitted within 10 days of the completion of the trip and safe return to the group's home station.
Current Volunteer Opportunities
Last updated: August 21, 2019