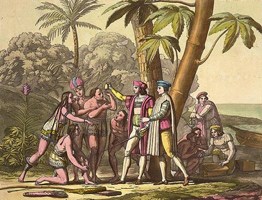 1492
Everyone
Christopher Columbus arrived in the Americas, beginning the European colonization of the Americas. Contact with Europeans was deadly, triggering numerous epidemics that killed millions of Native Americans. Europeans enslaved Native Americans and also brought Africans to the Americas to provide slave labor. Learn more about Salt River Bay, the only landing site of Columbus on US territory.
1641
African American
Massachusetts was the first English colony to legally recognize slavery, which was already a common practice in the English colonies. Learn more about how racial slavery came to be in the new world.
1663
Everyone
Enslaved Africans and white indentured servants planned a revolt in Gloucester County, Virginia, but were betrayed before they carried out their plan. This was the first organized resistance to bondage in the English colonies. Learn more about slave conspiracies in colonial Virginia.