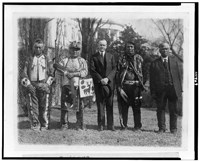 1924
Native American
Congress granted citizenship to all American Indians. Learn more about the struggle for Native American civil rights.
1924
LBGT
The Society for Human Rights was founded by Henry Gerber in Chicago. The society was the first gay rights organization in the country, though the society soon disbanded and all copies of the Friendship and Freedom newsletter were destroyed. Read more about Henry Gerber's life.
1926
African American
In Corrigan v. Buckley, the US Supreme Court upheld the legality of racially restrictive covenants between homeowners by dismissing the case as being out of the court's jurisdiction. Learn more about the case which was overturned in 1948 by Shelley v. Kraemer.
1927
Asian American
In Gong Lum v. Rice, the US Supreme Court upheld the "separate but equal" doctrine established by Plessy v. Ferguson. Read more about the Chinese American's plight for equal educational opportunities.
March 1929
Native American
Charles Curtis becomes the first Native American vice president of the United States. Curtis was of Kansa, Osage, and Potawatomi descent. Read about Curtis' early days on the Kaw Indian Reservation.