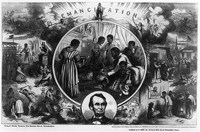 1865
Everyone
The Civil War ended. The Thirteenth Amendment was ratified, legally abolishing slavery in the United States. Learn which state was the last to ratify the amendment.
1865-66
African American
Black codes were enacted throughout the south to limit the rights of African Americans and reestablish white supremacy in the south. Learn more about the black codes.
1866
African American
The first Ku Klux Klan chapter was organized in Tennessee, with the goal of preserving white supremacy. Activity quickly spread across the south. Learn more about the rise of the Ku Klux Klan.
1868
Everyone
The Fourteenth Amendment was ratified granting equal protection under the law and citizenship to all persons born in the United States, including former slaves. Learn more about the Equal Protection Clause of the 14th Amendment.
1870
Everyone
The Fifteenth Amendment was ratified granting all adult males the right to vote. Though African Americans were granted the vote, they were prevented from voting in much of the United States. Southern states were required to ratify the 15th Amendment in order to rejoin the Union.