Person
Esther Hobart Morris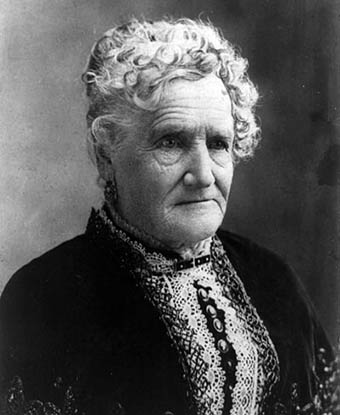 Significance:
First woman to serve as Justice of the Peace in the US; suffragist
Place of Birth:
Tioga County, New York
Date of Birth:
August 8, 1814
Place of Death:
Cheyenne, Wyoming
Date of Death:
April 3, 1902
Place of Burial:
Cheyenne, Wyoming
Cemetery Name:
Lakeview Cemetery
Esther Hobart Morris was the first woman to serve as Justice of the Peace in the United States. She was appointed justice of South Pass City, Wyoming after the previous justice resigned in protest after Wyoming Territory passed a woman suffrage amendment in December 1869.
While many say that Esther Morris had a leadership role in the success of the woman's suffrage amendment in Wyoming Territory, she never claimed credit. She credited William H. Bright instead, who was President of the Territorial Council and represented South Pass City in the territorial legislature.
Esther was born in Tioga County, New York in 1814. Prior to her first marriage, she apprenticed to a seamstress. Using the skills she learned, she ran a successful business making hats and selling other goods to women. She was also active in supporting the abolition of slavery.
She married her first husband Artemus Slack in 1841. They had a son, Archibald, who they called Archy. Following Artemus' death just three years later, Esther and Archy moved to property that Artemus owned in Illinois. Unable by law at the time to own or inherit property, she ran into trouble settling the estate.
In 1850, Esther married John Merchant in Peru, Illinois. John was a local merchant in Peru. They had twin sons, Robert and Edward, a year later. In 1868, Archy, and John moved to South Pass City, Wyoming Territory.[1] Originally a stage and telegraph station on the Oregon Trail in the 1850s, gold was found nearby in 1866. Drawn by the excitement, Archy and John opened a saloon and bought interests in several of the local mines. Esther, Robert, and Edward followed in 1869. They took the newly-completed transcontinental railroad and then a stagecoach to reach South Pass City. The family lived in a 24-foot by 26-foot, sod-roofed log cabin. These tight quarters must have felt even tighter for Esther -- her husband John had a reputation in town as a lazy drunk and brawler.
Business in the gold rush town was good in 1868 and 1869 when the town boasted a population of over 2,000. But the mines didn't produce the riches people hoped for. By 1870, when Esther was appointed Justice of the Peace, the population had fallen to under 500 people; by 1875, there were less than 100 left. On the occasion of her appointment, the county clerk sent a telegraph along the wires: "Wyoming, the youngest and one of the richest Territories in the United States, gave equal rights to women in action as well as words." (Wyoming Territory had granted women the right to vote in 1869).
Morris served just over 8 months in office. Though she wanted to run for reappointment, neither the Republican or Democratic parties would nominate her. After she was no longer on the bench, Morris had her husband arrested for assault and battery. In 1872, Esther left her husband and South Pass City and moved to Laramie, Wyoming to live with Archy and his wife. They had moved after fire destroyed Archy's business in 1871. 
Esther was active in the struggle for woman suffrage. In February of 1872, she attended the American Woman Suffrage Association convention in San Francisco, and in 1876 served as the vice president of the National American Woman Suffrage Association. In July of that year, she was in Philadelphia to address the national suffrage convention. 
After a brief stay in Laramie, Esther moved to Albany, New York and then to Springfield, Illinois. For several years, she spent winters in Springfield and summers in Wyoming with her sons. In the 1880s, she moved to Cheyenne, Wyoming to live with her son Robert. She died in Cheyenne on April 3, 1902. 
In 1960, a statue of her by Avard Fairbanks was placed in the National Statuary Hall Collection in the US Capitol in Washington, DC. A replica of the statue was placed outside the Wyoming State Capitol in Cheyenne in 1963.[2]
Notes:
[1] South Pass City Historic District was added to the National Register of Historic Places on February 26, 1970. The area has been extensively documented by the Historic American Building Survey. These documents are available via the Library of Congress.
[2]The Wyoming State Capitol at 24th Street and Capitol Avenue in Cheyenne, Wyoming was listed on the National Register of Historic Places on January 29, 1973 and designated a National Historic Landmark on May 4, 1987. The United States Capitol was designated a National Historic Landmark on December 19, 1960.
Last updated: October 4, 2019