Pop-Up Visitor Center at 45 Devonshire Street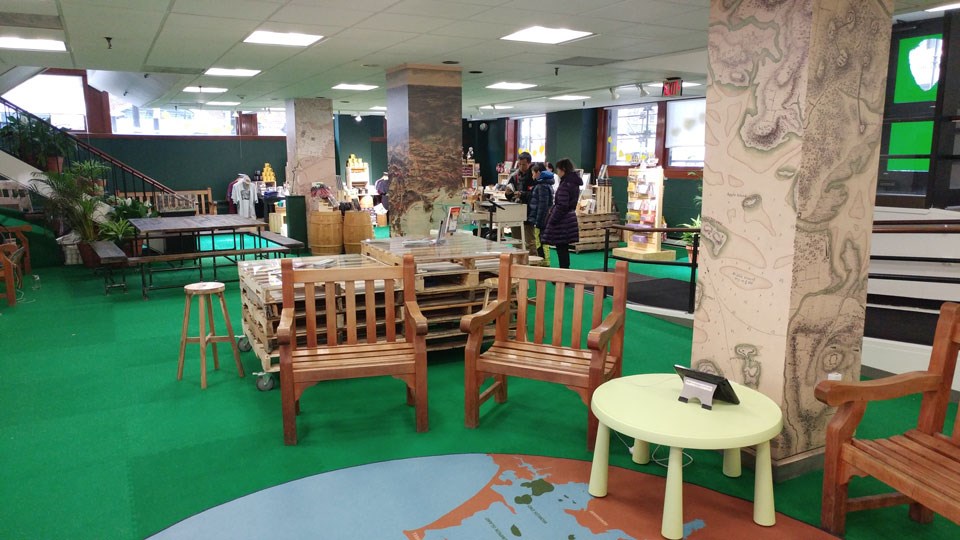 Project completed!
During the Winter and Spring of 2018, the National Parks of Boston temporarily moved to 15 State Street/45 Devonshire Street while Faneuil Hall was under renovations. This project is now over and the pop-up Visitor Center has closed. Faneuil Hall Visitor Center is now open and back to normal operations. This page will remain as a document about the project.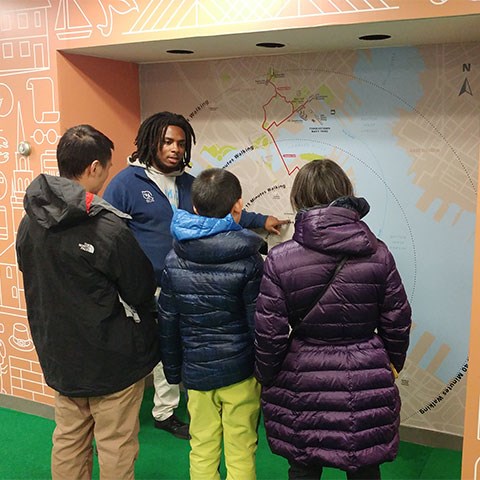 About the Pop-up Visitor Center
The "Pop-Up" Visitor Center was open 7 days a week, 9 am to 4:30 pm, until Faneuil Hall reopened in mid-May, 2018. The project featured new wall maps, an interactive kiosk, and a full floor map of the National Parks of Boston. It also featured movable furniture and areas for visitors to sit together and relax, plan their day, or talk. Eastern National, the Park's gift shop partner, also moved here at the "Pop-Up" Visitor Center. The VC opened in Early January and ended operations in May, 2018.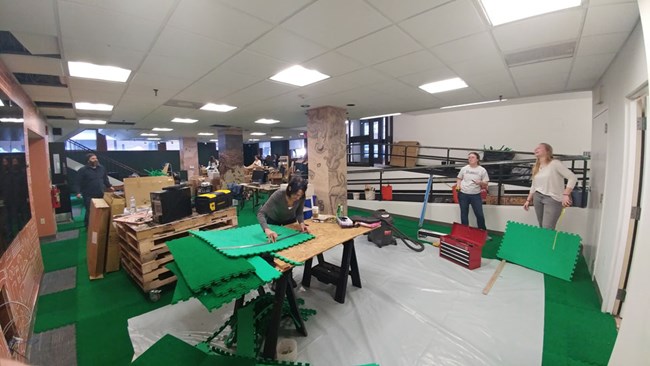 Déjà vu?
Visitors and longtime neighbors may recall that the park visitor center used to be at 15 State Street/45 Devonshire Street from 1978 until 2012. This was the same place! For this temporary move the entire space was rethought and redesigned. Park staff, partners, volunteers, and our design partners Visual Dialog collaborated to put together a new concept for a Visitor Center. After Visual Dialog finalized graphics and designs, everyone pulled together to implement the plans in a matter of just four weeks. Facilities and Maintenance staff used their talents and skills to extensively rehabilitate the restrooms facilities and fix many worn out walls. Eastern National built furniture and display racks, and interpreters, educators, volunteers, and other coworkers all pitched in to move items and even laid carpet the day before opening.
When Faneuil Hall reopened, this space reverted back to office space for the National Park Service. Though the "Pop-Up" Visitor Center only lasted a few months, the lessons and design elements implemented here have made their way back to Faneuil Hall to continue to help you "Find Your Park."
To see more photographs and a before and after, visit Visual Dialog's page on the project.
Last updated: May 20, 2018