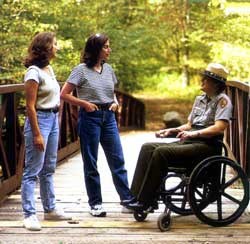 Many sites along the Freedom Trail are historic buildings and ships with varying levels of accessibility. See the accessibility notes for each park and park partner site on our Plan Your Visit page.
Boston's Freedom Trail navigates some of the oldest streets and neighborhoods in the city. Sidewalks can often be narrow and uneven. All crosswalks have curb-cuts and crosswalks at stoplights have signals. There are two places where the trail takes stairs:
Boston Common leading up to Beacon Street, the State House and the Robert Gould Shaw/54th Massachusetts Memorial: Cross over Park Street from Boston Common and take the return leg of the Freedom Trail up Park Street.
Old North Church from Paul Revere Mall: Take a left on Unity Street, a right on Tileston Street, and a right on Salem Street. This loops around to the front of the Church.
There are marked on-street handicap parking spaces near most historic sites available to any vehicle with a handicap placard. Reserved handicap parking is also available at the Charlestown Navy Yard.
Wheelchairs may be borrowed, free of charge, for single-day use at our Faneuil Hall and Charlestown Navy Yard Visitor Centers. They are available on a first come, first served basis. Visitor will be required to leave a driver's license as a deposit, and wheelchairs must be returned to the Visitor Center from which they were borrowed prior to the end of the day.