School Vacation Programming
Looking for fun things to do during school vacation?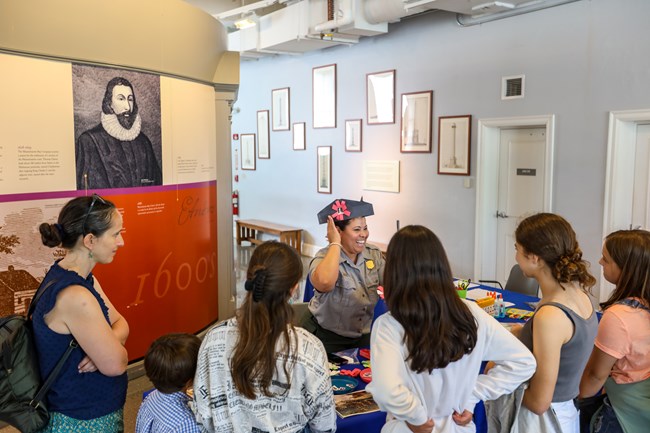 Enjoy lots of FREE, drop-in activities that are family-friendly. Join us at the Charlestown Navy Yard Visitor Center for a variety of fun activities that may include:
Ropemaking
"Riveting" a ribbon bracelet
Coloring pages
Word searches
And more!
School Vacation Programming usually occur during the following school holiday breaks:
February Recess
Spring Recess
Thanksgiving Recess
Winter Recess
See below for information regarding the upcoming school vacation programming or follow us on Facebook (Boston National Historical Park) for information on activities and updates about school vacation programming.
Upcoming School Vacation Programming: April 15 - 23 2023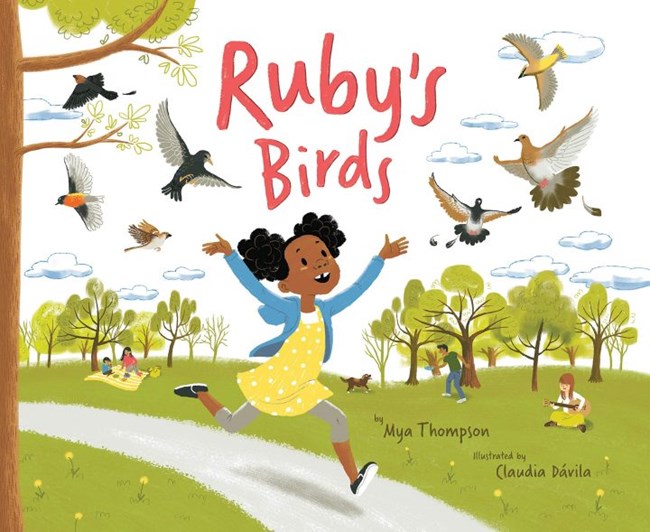 Charlestown Navy Yard
"Ruby's Birds" Story Walk
Daily April 15 - 23, 10:00 am - 5:00 pm
Participate in a self-guided outdoor story walk based on Ruby's Birds by Mya Thompson. Ruby is a plucky girl who uncovers the wild side of her city neighborhood with the help of a grown-up friend. When Ruby realizes there are amazing birds right in her neighborhood, her imagination takes flight. Read or listen to the story while strolling through the Charlestown Navy Yard! Best suited for ages 3-7. Story text and audio available in English and Spanish. Free and open to all!
---
Hands-on History Activities
Monday, April 17, 11:00 am - 3:30 pm
Rope making
How did navy yard workers make all that rope for all of those ships? Find out how workers made rope (by hand!) and make your own rope to take home with you!
Best for ages 3+
Paracord bracelets
Learn about knots and their importance in sailing and make a paracord bracelet to bring home.
Best for ages 4+
Knot Tying Board
Add to your knot tying experience! Learn different types of knots and get some practice tying them by following the instructions on the board.
Best for ages 6+
Rosie the Riveter
Who is Rosie and what is riveting? Learn about the famous Rosie and other women of the navy yard, and what a riveter does. Check out some of the equipment the women and men who worked in the navy yard wore and even take a selfie/picture with the Rosie backdrop.
Best for ages 4+
Coloring books
Enjoy some coloring fun with crayons and coloring books featuring the Shipbuilding Women of the Navy (SWONs) and different sites and buildings of the Charlestown Navy Yard. Color here with us or take one home!
All ages!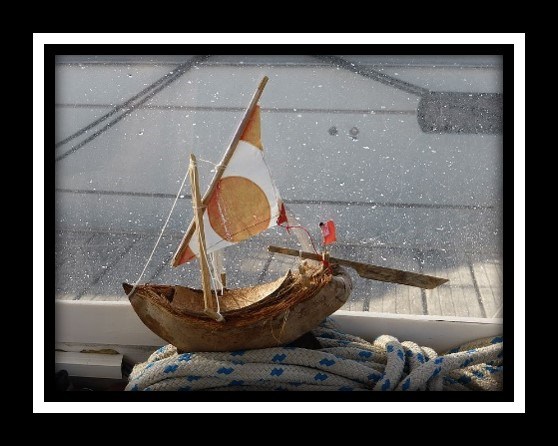 ---
Earth Day
Saturday, April 22, 11:00 am - 2:30 pm; outside of the Visitor Center
Earth Day is a global celebration on April 22 each year encouraging education and stewardship of the planet's natural resources.
Learn how to build Chalanas boats using coconuts with Ranger Veronica and shipbuilder, David Pippin. Chalanas are wide boats that narrow at the bottom, have no ballast, use crew on a trapeze for balance and are constructed totally of wood. Teacher Pippin will cut the coconut into three pieces, use a stick for the mast, leaves or cardboard for the sails, and aluminum cans for the rudder. We will have 3 pools outside the Navy Yard and kids can test their ships in the pools.
Bunker Hill
Hands-on Activities at the Museum
April 15 - 16, 19 - 23; 11:00 am - 3:30 pm
Build a Paper Monument
Design and build your own Bunker Hill Monument using paper, scissors, and personal creativity!
Best for ages 6+
Cypher Like a Spy!
A Patriot Leader might be secretly sending information to the British Army! Can you crack the code and solve the mystery?
Best for ages 9+
Bunker Hill Match Game and Tic-Tac-Toe
Use wooden blocks featuring key players in the Battle of Bunker Hill to play a match game or tic-tac-toe.
Best for ages 6+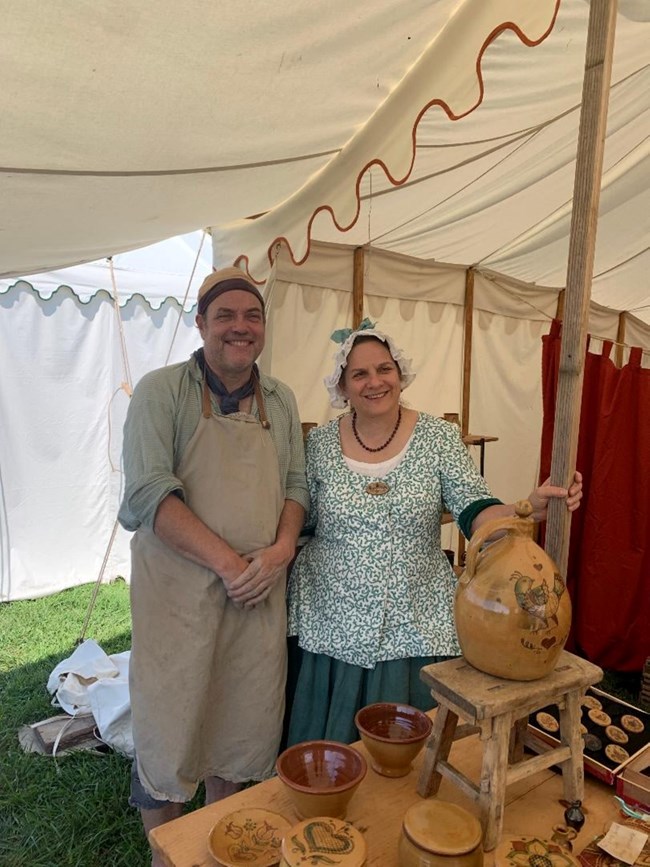 ---
Colonial Pottery and Fiber Demonstrations with Erich and Janice Steinhagen
Saturday and Sunday April 15 - 16, 11:00 am - 4:30 pm
Historically accurate pottery and fiber spinning demonstrations! Visitors are invited to watch and ask questions as Erich throws a pot and as Janice spins fabric. Visitors will learn how people in colonial times lived, dressed, and worked. Their programs include discussions of everyday life in the colonial period, and demonstrations of the spinning wheel and a pottery-making. The Steinhagens invite all park visitors to their tent outside the Bunker Hill Monument from 11am-4:30pm on both days, with formal 20-minute demonstrations at 11am, 1pm and 3pm. In the event of rain, this program will be moved across the street to the Bunker Hill Museum.
---
What's in the Militiaman's Pack?
April 19 - 20; 11:00 am - 3:30 pm
What was it like to be a militiaman like those who fought at the Battle of Bunker Hill? Learn by investigating the contents of a pack filled with reproduction items.
Best for ages 8 and up.
---
Decisive Day Battle Talks
April 19 - 20; 11:00 am - 3:30 pm
These 15-20 minute talks provide an overview of the Battle of Bunker Hill and its memory. In bad weather, these talks may be moved to Bunker Hill Lodge or cancelled.
Won't be able to join us for this programming? See below for other ways you can explore our park.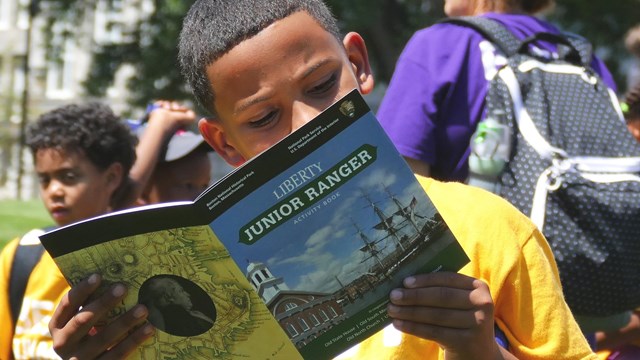 Junior Ranger Program
Explore Boston's revolutionary past and discover fascinating facts about the events, people, and places with the Junior Ranger Handbook.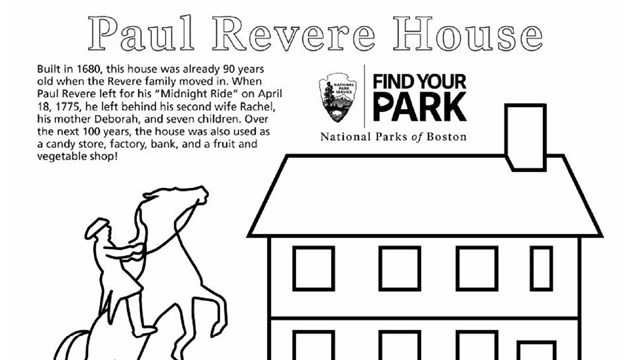 At-Home Activities
Want to color Faneuil Hall green? Or send your friend messages with signal flags? Dive into the various activities you can do from home!
Every Kid Outdoors
Learn how 4th Graders and their guests get free access to Federal Lands and Waters.
Last updated: April 7, 2023