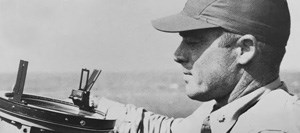 The "ideal skipper for a destroyer": Commander John W. Ailes III

by Casimer Rosiecki, Park Guide
A ship's performance, and the performance of her crew, is in many ways a reflection of the individual commanding that ship. John Ailes was the second captain of USS Cassin Young, assuming command in October 1944. Commander Ailes was a talented officer whose aggressiveness and determination helped secure victory for the Allied forces in the Pacific during World War II.
John William Ailes III was born on September 9, 1907 in Donora, Pennsylvania. Ailes was appointed to the U.S. Naval Academy in 1926, and was commissioned an ensign upon graduating in 1930. At age 22 "Red" or "J.W.," as he was called by his classmates, possessed a small figure, red hair, a winning smile, and a deep love for Pittsburgh. It was said that Ailes was "amply capable of much success," and that during his training at the academy, he "comes into his own on the cruise."

Ailes was stationed at Pearl Harbor with his wife, Edith, and their two young boys when Japanese forces attacked on December 7, 1941, forcing Ailes and his country into war. On October 18, 1944, when he was just 37 years old, Ailes stepped aboard Cassin Young as relief for Commander Earl T. Schreiber. Navigator George T. Finnegan stepped aboard Cassin Young at about the same time as Ailes. Years later Finnegan recalled that his former captain "was an excessively efficient officer" and that Ailes was "…Very respected by the men." The skipper "never gave any indication that he didn't know exactly what he was doing," Finnegan recollected, "and I think the fact was that he did know what he was doing almost all the time…He was an ideal skipper for a destroyer."

Possibly his greatest responsibility was the welfare of Cassin Young's crew. Ailes led a crew of 324 young men, and beginning in November 1944 those men faced a new threat –Kamikazes. Finnegan was comfortable placing his life in Ailes's hands. Finnegan remembered that during Kamikaze attacks Ailes was everywhere on the bridge, screaming orders, and that he "was almost like a madman" while fighting aerial threats. Ailes' "maneuvering of the ship," in Finnegan's opinion, "saved it on several occasions from being hit." Finnegan believed Ailes was "great at anticipating just how the plane would come out of its dive at us, and would just put the ship in configuration that it would be fading away from the attack…" The radical maneuvering "did save us on [a] couple occasions," Finnegan believed.