Volunteer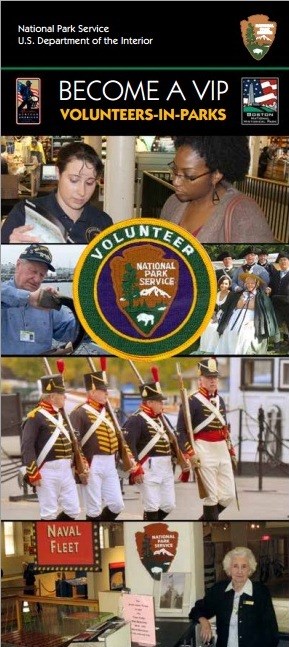 Volunteers work in all areas of Boston National Historical Park and play a vital role in helping to preserve park resources and providing visitors with an excellent experience. In 2014, Boston National Historical Park volunteers donated more than 17,000 hours of their time! Without volunteers, we simply could not accomplish all that we do.
Volunteers staff our visitor centers, give orientation, and welcome groups. Volunteers can assist at our many annual and commemorative events. They give programs or perform clerical and administrative duties. Other volunteers work in research, collections, and curatorial services. Volunteers who work as interns and service learners gain on the job experience while fulfilling educational requirements.
In partnership with the Friends of the U.S.S. Cassin Young (FOTCY) and the USS Cassin Young Association, volunteers perform ship maintenance and give special tours aboard the World War II destroyer, USS Cassin Young. The 1812 Marines have joined us to commemorate the War of 1812. American Revolution enthusiasts volunteer year round and help with the park's main interpretive themes.
If you are interested in volunteering at Boston National Historical Park, please call our Volunteer-in-Parks Program Office at 617-242-5222. You may also send an e-mail to e-mail us.
Current Volunteer Opportunities
Last updated: December 22, 2020