News Release
Popular "Get Active in the Park" Program Seeks New Instructors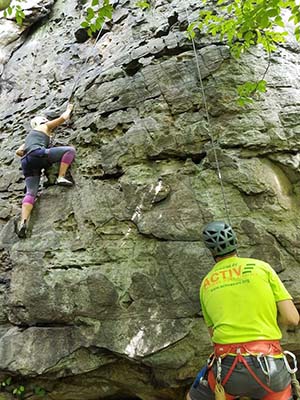 News Release Date:
April 26, 2018
Contact: Melanie Seiler (PLEASE CONTACT FIRST), 304-619-1619
Contact: Leah Perkowski-Sisk, 304-574-2115
Glen Jean, WV 
— The National Park Service (NPS) and Active Southern West Virginia (Active SWV) have entered into the third year of a successful partnership known as the "Get Active in the Park" program.  The program helps connect local residents to the national parks of southern West Virginia by offering free, beginner-level, guided activities and mini-classes at New River Gorge National River and Bluestone National Scenic River. Community members receive free training to become "Community Captains", and instruct outdoor recreation classes in the parks and throughout Nicholas, Fayette, Raleigh, and Summers counties. Due to the program's popularity, additional volunteers are needed. The first training of 2018 will be held on May 5th and 6th in Glen Jean, WV.
Volunteers, called "Community Captains", participate in Leadership training to understand risk management guidelines, group dynamics, and communication techniques, as well as first-aid and CPR. Training to become an initial instructor and ongoing support are provided for free by Active SWV. Previous leadership experience is not required but having values in active living, community service, and appreciation for public lands (parks) are needed to continue the growth of this program to reach more residents in southern West Virginia to improve their quality of life. Local residents interested in becoming a Community Captain should contact info@activesvw.org or 304-254-8488 to learn more.  
Last year roughly 800 local residents attended Get Active in the Park programs, 87% of which reported that they felt more comfortable visiting national parks after attending. Program participants overwhelmingly reported that the experience was "restorative and relaxing". Many reported, "fun with family and friends", with families reporting that they "got my kids out of the house for a family adventure" or "spent time with my kids with no electronics- hooray!". Additionally, participants felt healthy, reporting, "I can say no to diabetes", or one who even reported, "I'm a stage 4 cancer survivor, just now getting on my feet. Love the exercise". 
ActiveSWV is a non-profit 501(c)(3) organization whose purpose is to provide opportunities for physical exercise in southern West Virginia, thereby improving health and wellness of its citizens and workforce. For more information about Get Active in the Park programs, check out the Facebook page 

at www.facebook.com/getactiveinthepark

. 

Additional information on the national parks of southern WV is at www.nps.gov/neri, www.nps.gov/gari, and www.nps.gov/blue.
Last updated: April 26, 2018