News Release
Friends of New River Gorge National River Plan for 2021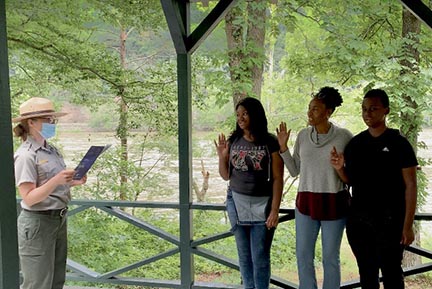 News Release Date:
December 9, 2020
Contact: Eve West, 304-719-6364
Glen Jean, WV – Friends of New River Gorge National River had a productive year in 2020 with plans underway for more in 2021. New members are being recruited to assist in their efforts. 
Although activities had to be modified, or in some cases, even canceled due to COVID-19, Friends' group members and National Park Service staff collaborated on a variety of successful events and projects in 2020, including: 
The park received an $11,900 grant from American Water to provide Biodiversity programming for 6th-grade students participating in West Virginia University's Science Adventure School at the Summit Bechtel Reserve. The two-year grant, written by Friends CEO Dave Bassage, and New River Gorge National River (NRGNR) Education Coordinator Mark Bollinger, will bring local students into the park two days each week for 14 weeks to learn about area streams and forest ecology. 
National Park and Friends'group staff offered two Grandfamilies (grandparents raising their grandchildren) day camps at the Camp Brookside Environmental Education Center, funded by the National Park Foundation and administered by the Friends group. These camps provided grandparents and grandchildren with a free, half-day program that included a meal, fishing clinic, equipment, and the opportunity to catch a fish in the New River. 
In partnership with the New River Conservancy and New River Gorge Clean Water Alliance, Friends' group members coordinated a river cleanup between the New River Gorge Bridge and Hawks Nest Dam. Fourteen raft loads of trash were retrieved, including 250 tires. 
An Aid Station staffed by Friends' group members for a 100-mile ultramarathon served 196 runners as they came through the historic town of Thurmond. 
Events are currently being planned for 2021, to include additional Grandfamily day camps, fundraisers, water festivals, and other events. For more information on the Friends of New River Gorge National River, including how to become a member, visit the group website at www.friendsofnewriver.org, follow on Facebook, or email friends@friendsofnrgnr.org. For more information on New River Gorge National River, visit the park website at www.nps.gov/neri and follow on Facebook, Twitter and Instagram. 
Last updated: December 10, 2020