Campgrounds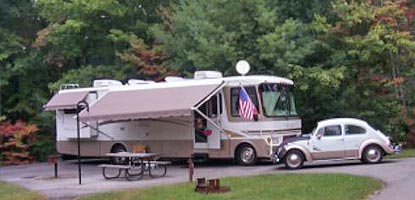 Big South Fork National River and Recreation Area contains five developed campgrounds which are intended to meet the needs of almost any camper visiting the park.
Two campgrounds, Bandy Creek (TN) and Blue Heron (KY) are highly developed sites with many amenities while the Alum Ford Campground (KY) offers a limited number of primitive campsites. Two equestrian campgrounds, Bear Creek (KY) and Station Camp (TN) are both highly developed campgrounds operated by concessionaires.
There are no campground stores. The Bandy Creek Stable does have a small tack store that carries a few items for campers. Be prepared to bring what you need with you. The stables sells firewood. Campers may also collect any wood that is down and dead. Ice can be purchased at the Bandy Creek Visitor Center.
***Notice to those who want to bring firewood with you...certain states have non-native insects that can cause damage to our native trees. Firewood brought in from outside the park is prohibited. We are requesting that firewood not be brought in from any location outside the park because there are many damaging insects pests. Be prepared to buy or collect your wood once you arrive at the campground. To download an informational PDF (285 kb) on the Emerald Ash Borer.