Photos & Multimedia
It has been said that a picture is worth a thousand words. Visit the photo gallery page and explore some of the many scenic, natural and cultural resources which make Big South Fork National River and Recreation Area the treasure it truly has become.
If you take any photos while visiting Big South Fork that you would like us to share with others on the Internet, please send them to us! For consideration, a photo must be taken in the park, be of high quality, and be pertinent to the natural, scenic, scientific, or cultural resources of Big South Fork. Please follow the photo submission link for additional information. You may also submit your photos for the annual photo contest if the deadline has not passed. Find more information on the annual photo contest page.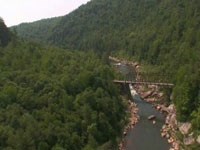 Fly the Big South Fork River Gorge
Recently television station WBIR out of Knoxville, Tennessee produced a 30 minute video on the Big South Fork National River and Recreation Area. As a part of the video Famfive Productions flew through a section of the Big South Fork River gorge from the O&W bridge south along the river for a distance of 2 to 3 miles to the mouth of Pine Creek.
Come fly the gorge and look up at the rim.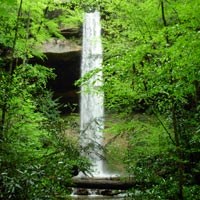 Yahoo Falls Roars
In early May, 2009 the Cumberland Plateau received several inches of rain in a very short time period. In addition to raising the Big South Forkflow rate to over 45,000 cfs, the rains also turned the normally quiet Yahoo Falls in to a raging torrent. The following link will show you another, rarely seen, summer side to
Yahoo Falls
and the colder winter side to
Yahoo Falls
.


Last updated: November 15, 2019