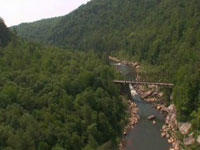 Fly the Big South Fork River Gorge
Recently television station WBIR out of Knoxville, Tennessee produced a 30 minute video on the Big South Fork National River and Recreation Area. As a part of the video Famfive Productions flew through a section of the Big South Fork River gorge from the O&W bridge south along the river for a distance of 2 to 3 miles to the mouth of Pine Creek.
Come fly the gorge and look up at the rim.