Date:
May 19, 2014
Contact:
Chelsea Lauber
, 606-376-3787
Contact:
Dave Carney
, 423-569-9778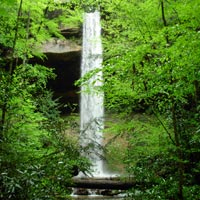 The Big South Fork National River and Recreation Area announces a 45-minute, ranger-led interpretive hike to 113 foot tall Yahoo Falls.  Please come and enjoy a hike with Ranger Chelsea Lauber starting from the Yahoo Falls parking area to learn more about the natural and geological features of Big South Fork and to experience Yahoo Falls, a large rock cave and towering sandstone cliffs.  This fun, fact-filled hike begins promptly at 10:00 a.m. (ET) on Sunday, May 25, at the Yahoo Falls parking area.
This ranger-led hike is free of charge.  Please wear weather-appropriate clothing and footwear.  The trail is considered to be moderately difficult because it does contain a long set of stairs.  Everyone is welcome.
For directions or additional information, please call the Blue Heron Interpretive Center at (606) 376-3787.