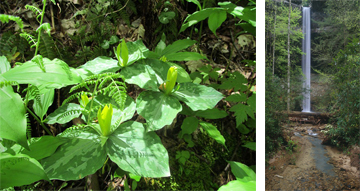 News Release Date:
January 28, 2014
Contact: Howard Duncan, 423-286-7275
Contact: Dave Carney, 423-569-9778
The Big South Fork National River and Recreation Area is pleased to announce the partnership with the McCreary County, Kentucky, Tourism Commission and the U.S. Forest Service in the area's first Wildflower Discovery Weekend on Friday, May 2, and Saturday, May 3.  The event will include a series of natural history talks and walks on wildflowers, black bears, geologic arch formations, amphibians, birds, waterfalls, and the area's rich cultural history.  Hikes are scheduled from 9:00 a.m. to 12:00 p.m. and from 1:00 to 4:00 p.m. (Eastern Time) on both Friday and Saturday.  Pre-registration is required and group size is limited.  The hikes will begin at the Yahoo Falls Picnic Area and the Blue Heron Interpretive Center.  There will also be an indoor presentation that Friday evening discussing the area's threatened and endangered species, starting at 7:00 p.m., at the train depot in historic Stearns, Kentucky.
The Yahoo Falls area provides a stunning variety of spring flowers on a short, moderate hiking trail.  In addition to wildflowers, spectacular scenery is provided by 113 foot tall Yahoo Falls, towering sandstone cliffs, a huge rock shelter, and an outstanding overlook of the Big South Fork River.  The hikes will be led by U.S. Forest Service and National Park Service rangers and local volunteers.  The Yahoo Falls Picnic Area is accessed from Highway 700, west of Whitley City, Kentucky.
The Blue Heron Interpretive Center at the historic Blue Heron Mining Community is a great place to learn about the history of the area, but it is also surrounded by dense diverse forest offering great opportunities to view wildflowers.  Blue Heron is accessed by following signs from U.S. 27 south to 92 west and turning on 1651.  Watch for signs to Blue Heron.  Turn left on Mine 18 Road (Highway 742).  Mine 18 Road ends at the Blue Heron Interpretive Center.
For further information, contact Tara Chaney of the McCreary County Tourism Commission at (606) 376-3008 or visit the website at www.mccrearytourism.com. To see the complete schedule of talks and hikes and to register for the events, go to www.wildflower.eventzilla.net.