Date:
June 24, 2013
Contact:
Bill Herman
, 606-376-3787
Contact:
Effie Houston
, 423-569-9778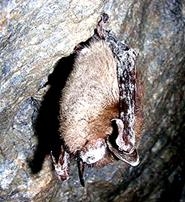 The Big South Fork National River and Recreation Area announces a 45-minute, ranger-led interpretive program at Blue Heron campground about White-Nose Syndrome (WNS).  This exotic fungal disease is responsible for the death of millions of native species of hibernating bats and continues to spread towards Big South Fork National River and Recreation Area.  Ranger Alan Bowlin will present this evening activity on June 29, at 7:30 p.m. (EDT).
This informative program offers park visitors and local residents an excellent opportunity to gain better insight into WNS.  This epidemic disease is considered the most tragic wildlife disease to have occurred in the past 100 years.  Topics will include the significant health characteristics associated with WNS, its impact on bat populations, why we should care about bats, and actions we should take when encountering a bat displaying unusual behavior.  Seating is limited on a first-come, first-serve basis.  Please wear weather-appropriate clothing for this outdoor event.  This campfire circle program is free of charge and wheelchair accessible.  Everyone is welcome.
For directions or additional information, please call the Blue Heron Interpretive Center at (606) 376-3787.