Volunteer Vacation Trail Crew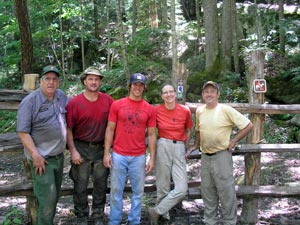 News Release Date:
June 28, 2007
Contact: Steven Seven, 423.569.5997
Big South Fork National River and Recreation Area in partnership with the American Hiking Society recently hosted a Volunteer Vacation Crew here at the park. This innovative program matches individuals interested in doing volunteer trail work during their vacation with National Parks Service units needing assistance in maintaining their trail system.
During their week-long stay at Big South Fork this four person crew worked on an unfinished portion of the John Muir National Recreation Trail in addition to repairing tread, building and repairing existing water bars and clearing vegetation from the trail.
Park Superintendent Reed E. Detring stated, "Big South Fork was happy to have the crew here this summer and very pleased by the work they accomplished. The park looks forward to working with the American Hiking Society to bring back additional Volunteer Vacation Crews in the future."
Individuals or groups interested in participating in the American Hiking Society's Volunteer Vacation program may learn more by visiting the American Hiking Society web site.
For those wishing to volunteer directly with Big South Fork National River and Recreation Area, please contact the park's volunteer coordinator Sue Duncan by calling (423) 286-7275.
Last updated: April 14, 2015