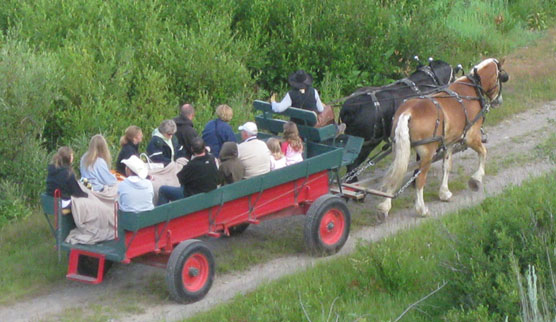 News Release Date:
February 27, 2014
Contact: Letitia Neal, 423-569-9778
Contact: Dave Carney, 423-569-9778
Imagine riding along an old mountain road looking up at the trees, taking in the fresh air and enjoying the sound of horse's hooves steadily trotting along the beautiful terrain. Riding in a wagon was once the way of life in the old days. Big South Fork NRRA is currently recruiting any interested vendors to provide hayrides on Saturdays this year. The hayride route would start and end at Bandy Creek utilizing multiple use trails in the area. Vendors may charge a reasonable fee for any days of operation with the exception of special event days such as Spring Planting and Storytelling. Vendors must also have insurance.
For more information and how to apply, contact the park fee manager at (423) 569-2404, extension 267, or by email at
e-mail us
.