Date:
July 24, 2013
Contact:
Bill Herman
, 606-376-3787
Contact:
Dave Carney
, 423-569-9778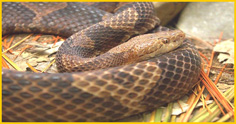 The Big South Fork National River and Recreation Area announces a 45-minute, ranger-led program at Blue Heron Campground about snakes on Saturday, August 3, at 7:30 p.m. (EDT).  Join NPS Ranger Raymond Little at the campfire circle when he talks to park visitors about this fascinating group of unique animals.  Whether simply curious, passionate, or have mixed emotions about snakes, this evening event will provide you with greater insight about these often mysterious and misunderstood creatures.  Come join the experience!
This interpretive program is free of charge and wheelchair accessible.  Seating is limited on a first-come, first–served basis.  Children should be accompanied by an adult.  Please wear weather-appropriate clothing for this outdoor event.  Everyone is welcome.
For directions or additional information, please call the Blue Heron Interpretive Center at (606) 376-3787.