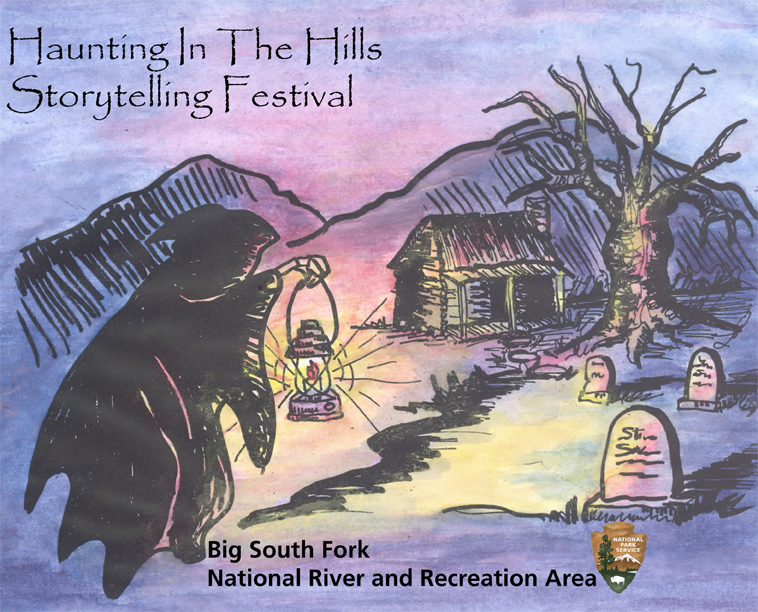 News Release Date:
August 4, 2014
Contact: Dave Carney, 423-569-9778
The 22nd "Haunting in the Hills" Storytelling Festival will be held Saturday, September 20, in the Big South Fork National River and Recreation Area. The day's events will feature storytelling, craft demonstrations, workshops and sales, afternoon storytelling presentations, and performances of dulcimer and bluegrass music. The day will culminate with the evening storytelling session.
The climax of this year's festival will again be the night of ghost stories. Storytellers from around the country will present their best ghost stories beginning at 8:00 p.m. (ET). A series of "not-too-scary" stories will first be presented for the young and faint of heart. These will be followed by very scary stories for those brave enough to stay.
Neighbors and visitors alike are encouraged to come spend a special day at the Big South Fork National River and Recreation Area. Please remember to dress appropriately for the weather, bring a flashlight, a blanket for seating on the ground, and snacks or drinks. Food will be available for sale through on
site vendors. Parking for the event will be in the field across the road from the Bandy Creek Visitor Center near the pool. Bring the entire family and plan
on spending the day to enjoy all of the activities.
For further information about the event or for directions to Bandy Creek, call the Bandy Creek Visitor Center at (423) 286-7275 or park headquarters at (423) 569-9778 or visit the Big South Fork website at www.nps.gov/biso. The Storytelling Festival is on Eastern Time. The event is free to the public.