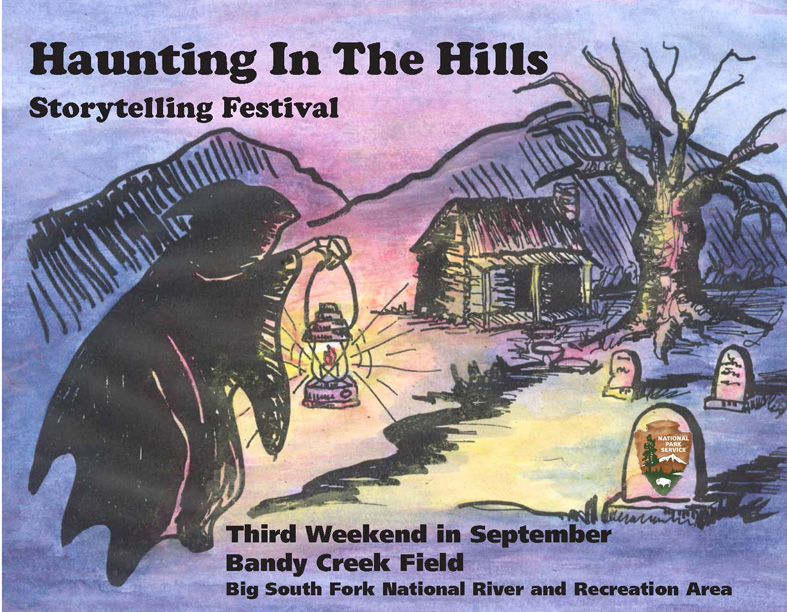 News Release Date:
September 9, 2013
Contact: Howard Duncan, 423-286-7275
Contact: Dave Carney, 423-569-9778
The Twenty-first Annual "Haunting in the Hills" Storytelling Festival will be held Saturday, September 21, at Bandy Creek Campground in the Big South Fork National River and Recreation Area.  The day's events will begin at 10:00 a.m. (EDT) and feature craft demonstrations, workshops and sales. The ever popular "Old Timey Toys" will once again be presented.  The fun will continue throughout the afternoon with family oriented storytelling presentations, interpretative presentations by National Park Rangers, and performances of dulcimer and bluegrass music.  New this year will be an oral history workshop where folks will be able to share their stories and photographs of the Big South Fork from long ago.  There will even be an opportunity for local tellers and area student tellers to show their ability to "spin a tale".  This year the number of craft and food vendors has been greatly expanded.  A wide variety of wonderful craft items and delicious food will be available.
The popular Knoxville Area Dulcimer Club will present a delightful concert of traditional Appalachian dulcimer tunes at 5:00 p.m. followed at 6:30 by the local bluegrass group "Great Day in the Morning".  The climax of this year's festival will once again be the evening ghost stories.  The ghostly tales will begin at 8:00 p.m. (EDT).  Four storytellers from around the country will present their best ghost stories.  A series of "not-too-scary" stories will first be presented for the young and faint of heart.  These will be followed by scarier stories for those brave enough to stay.
This year's storytelling features the return of some favorite tellers from previous events.  Lyn Ford is a nationally recognized teller with Appalachian roots; she tells many stories that have been handed down within her family.  Doug Elliot lives in the mountains of North Carolina and has deep Appalachian roots; his stories will strike a familiar chord with local audiences.  Tim Tingle has appeared at past Haunting in the Hills storytelling events and will delight listeners of all ages.  Jill Johnson hails from the state of Washington and will provide the audience with thrilling and chilling stories.
Everyone is encouraged to come spend a special day at the Big South Fork National River and Recreation Area.  Remember to dress appropriately for the weather and bring a flashlight and a blanket or chair for seating on the ground.  Food will be available throughout the day and into the evening.  Picnic facilities are nearby for those who would like to use them.  There is no admission fee for the event.
For further information about the event or for directions to Bandy Creek or the Bandy Creek Visitor Center at (423) 286-7275.