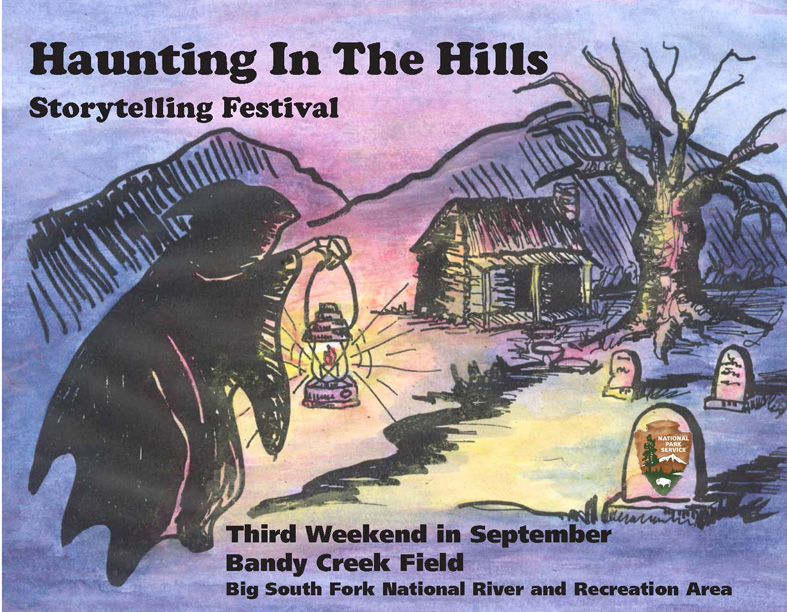 News Release Date:
September 10, 2012
Contact: Howard Duncan, 423-569-9778
The Twentieth Annual "Haunting in the Hills" Storytelling Festival will be held this Saturday, September 15, at Bandy Creek Campground in the Big South Fork National River and Recreation Area. The day's events will begin at 10:00 a.m. Eastern Time and feature craft demonstrations, workshops and sales. The ever popular "Old Timey Toys" will once again be presented. The fun will continue throughout the afternoon with family oriented storytelling presentations, interpretative presentations by National Park Rangers and performances of dulcimer and bluegrass music. There will even be an opportunity for local tellers and area student tellers to show their ability to "spin a tale". This year the number of craft and food vendors has been greatly expanded. A wide variety of wonderful craft items and delicious food will be available.

The climax of this year's festival will once again be the evening ghost stories. The ghostly tales will begin at 8:00 p.m. Eastern Time. Five storytellers from around the country will present their best ghost stories. A series of "not-too-scary" stories will first be presented for the young and faint of heart. These will be followed by scarier stories for those brave enough to stay.

This year's storytelling features the return of some favorite tellers from previous events. Lyn Ford is a nationally recognized teller with Appalachian roots; she tells many stories that have been handed down within her family. Bobby Norfolk previously worked as a National Park Ranger at the Gateway Arch in St. Louis before leaving the National Park Service to become one of America's premier storytellers; his dynamic movement and vocal effects bring characters in his stories to life. Sherry Norfolk captures the imagination of audiences of all ages with her magical storytelling skills; she has been a professional storyteller since 1981. Kim Weitkamp has impeccable comedic timing and perfectly woven stories; her quick wit, care for the audience, and beautifully delivered stories will capture the imagination in everyone.

Everyone is encouraged to come spend a special day at the Big South Fork National River and Recreation Area. Remember to dress appropriately for the weather and bring a flashlight and a blanket or chair for seating on the ground. Food will be available throughout the day and into the evening. Picnic facilities are nearby for those who would like to use them. All are invited to come and enjoy a wonderful day in the beautiful Big South Fork.

For further information about the event or for directions to Bandy Creek, call the Bandy Creek Visitor Center at (423) 286-7275.

The event is free. All times are on Eastern Time.