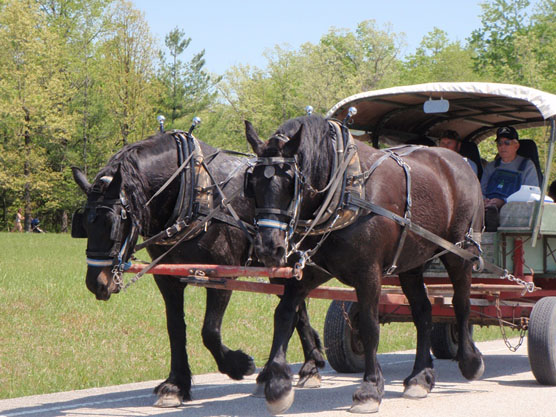 News Release Date:
March 30, 2012
Contact: Howard Duncan, 423-569-9778
Big South Fork National River and Recreation Area will host the Twelfth Annual Spring Planting Day Celebration on Saturday, April 28, 2012. The event will take place in the areas adjacent to the Bandy Creek Visitor Center and the Lora Blevins home place from 9:00 a.m. until 4:00 p.m. EDT.

Join National Park Service staff and volunteers as they demonstrate traditional crafts and skills associated with farm life and chores. Demonstrations scheduled for the Blevins farmstead include blacksmithing, plowing with mule and horse teams, planting sorghum seed, and making fence palings. Children of all ages will be delighted to see various farm animals at the barn. Other displays at the farm include herbs and their uses and historic photographs of people who once lived in Big South Fork.

The Spring Planting Festival was begun in April of 2001 as a celebration of spring and as a cooperative effort involving our local park communities and neighbors. Visitors will have an opportunity to get a glimpse of our ancestors' way of life.

There is no charge for this event.

For more information about this event or additional recreational opportunities, contact the Bandy Creek Visitor Center at (423) 286-7275.