Date:
January 2, 2006
Contact:
Steven Seven
, 423.569.9778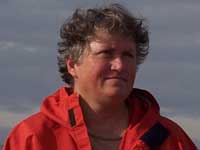 Phyllis A. Trabold who has served most recently as ecologist with the U. S. Army Corps of Engineers in Los Angeles, California, has been selected as the new Community Planner at Big South Fork National River and Recreation Area.
According to the announcement by Big South Fork Superintendent Reed Detring, Trabold will assume the duties of her new position in January of this year. Detring stated, "We are looking forward to Ms. Trabold coming to Big South Fork and becoming both part of the park and the community."
Trabold began her career with the Federal Government in 1979 at Amistad Recreation Area. After receiving a Bachelor of Science degree in Natural Resource Planning from Humboldt State University Trabold worked with the Bureau of Land Management and later the California Department of Transportation.
In August of 1994 Trabold began work with the U. S. Army Corps of Engineers serving first as an Outdoor Recreation Planner and later as an Ecologist. It was during this time that Trabold also received a Master of Science degree in Environmental Studies from California State University Fullerton.
Trabold will serve as the community planner filling a position left vacant when Chris Stubbs transferred to Cedar Creek and Belle Grove National Historical Park last year.