Date:
August 14, 2013
Contact:
Bill Herman
, 606-376-3787
Contact:
Dave Carney
, 423-569-9778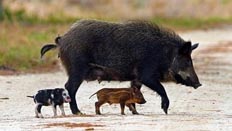 The Big South Fork National River and Recreation Area announces a 45-minute ranger-led interpretive program at Blue Heron campground about the wild hog.  Come learn how this domesticated free-roaming animal of centuries past got here, some bits of history about Charit Creek Lodge (formerly known as "the hog farm"), and how the wild hog has become a destructive pest that is wreaking havoc on the environment today.  Ranger Alan Bowlin will present this evening activity on Saturday, August 24, at 7:30 p.m.
This campfire circle program is free of charge and wheelchair accessible.  Seating is limited on a first-come, first–served basis.  Please wear weather-appropriate clothing for this outdoor event.  Everyone is welcome.
For directions or additional information, please call the Blue Heron Interpretive Center at (606) 376-3787.