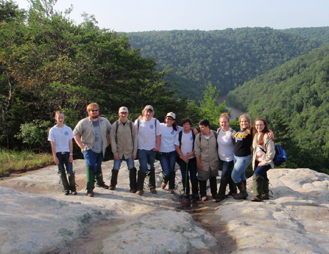 News Release Date:
August 27, 2015
Contact: Wallace Linder, 423-569-9778
Contact: Chris Derman, 423-569-9778
Ten high school students from Fentress and Scott counties recently finished the summer working on a Youth Conservation Corps (YCC) team at the Big South Fork National River and Recreation Area.
The Youth Conservation Corps is a summer employment program for young men and women, ages 15 through 18, to work on projects to protect public lands. The Youth Conservation Corps program is one that trains young people and provides outdoor work that is supervised by a trained crew leader. Participants gain valuable professional experience working on National Park Service lands and learn how to use tools, safe work habits, teamwork, and how conservation projects benefit the environment and protect cultural and historical resources.
This year's Tennessee crew members were selected from the York Institute, Oneida High School, and Clarkrange High School and included Tyler Chitwood, Kenneth Clark, Alia Copeland, Rachel Crabtree, Randy Delk, Katlin Evans, Lucas Massengale, Kylie Pittsley, Taylor Slaven and Colton Spradlin.
The young adults spent two months this summer working alongside crew leaders Don Phillips and Cody Karsner and other National Park Service employees. The YCC crew worked on a number of projects including clearing Middle Creek Nature Loop and Slave Falls Hiking Loop trails along with working on the beginning process of rehabbing an historic Civilian Conservation Corps (CCC) fire watch cabin.
For further information about this program and its accomplishments, call Wallace Linder at (423) 569-9778.