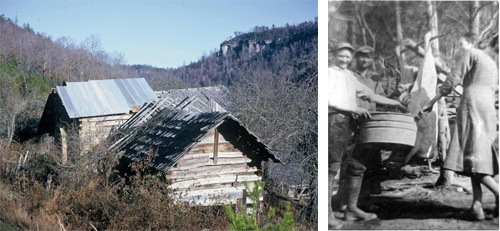 News Release Date:
August 22, 2013
The twenty-first annual "Haunting in the Hills" Storytelling Festival will be held Saturday, September 21, in the Big South Fork National River and Recreation Area at Bandy Creek.  Staff at Big South Fork are inviting you to share your own stories of living, playing or working in the park.  Pop in and tell us about your favorite place to visit in the park or schedule a time to sit down and describe life growing up in No Business.  We are looking for all types and lengths of stories.
Walk-ins are encouraged to visit us from 10:00 a.m. to 4:30 p.m. at the Interpretation and Education Building next to the Bandy Creek Visitor Center.  We will have a digital photo scanner so bring your photos so we can help you record how your history is the park's history.
Parking for the event will be in the field across the road from the Bandy Creek Visitor Center.Bring the entire family and plan on spending the day to enjoy all of the activities.
For further information about the event or for directions to Bandy Creek, call the Bandy Creek Visitor Center at (423) 286-7275 or park headquarters at (423) 569-9778 or visit the Big South Fork website at www.nps.gov/biso.  The storytelling festival is scheduled on Eastern Time.  There is no charge for the event.