Date:
June 1, 2008
Contact:
Steven Seven
, 423.569.9778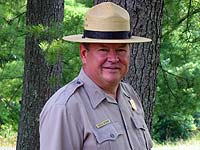 Acting Southeast Regional Director Paul Anderson recently announced that Big South Fork National River and Recreation Area (NRRA) Superintendent Reed E. Detring will be leaving the region to assume the position of Superintendent at Ozark National Scenic Riverways in Missouri.
During his eight and one-half years at Big South Fork, Detring has worked to develop and strengthen numerous partnerships with local governments and park neighbors.  In addition, Detring oversaw the completion of the park's first General Management Plan which was completed in 2005.
Detring noted, "I have enjoyed my years here at Big South Fork National River and Recreation  Area. I have found the park to be a exceptionally beautiful resource and the people of East Tennessee extremely friendly.  While I will miss the Cumberland Plateau, I look forward to new and similar challenges at Ozarks National Scenic Riverways."
Pending the selection of a new Superintendent, Stuart Johnson, Superintendent at Stones River National Battlefield will be overseeing the management of Big South Fork NRRA. 
Johnson has worked with the National Park Service for over 28 years, beginning his career in the Southeast Regional Office in 1980.  Johnson then served as Superintendent at Natchez National Historical Park in Mississippi, the Chief of Planning for the Southeast Region and most recently as Superintendent at Stones River National Battlefield.