Date:
September 14, 2008
Contact:
Howard Duncan
, 423.286.7275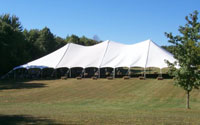 The Sixteenth Annual "Haunting in the Hills" Storytelling Festival will be held Saturday, September 20, 2008, at Big South Fork National River and Recreation Area in Oneida, Tennessee.  The event includes dulcimer and craft workshops, afternoon storytelling presentations, dulcimer and Bluegrass concerts, and evening ghost storytelling.  The event is free to the public and will be held rain or shine.
Saturday's activities will begin at 9:00 a.m. with craft workshops in the area adjacent to the Bandy Creek Visitor Center.  Craft workshop sessions include basket making, soap carving, woodcarving, pioneer skills, candle wicking embroidery, and needle felting.  Registration for classes will be first-come, first-served at the craft tents on Saturday.  Register early because spaces are limited!
From 10:00 a.m. until 5:00 p.m. crafters will demonstrate woodturning, lye soap making, quilting, and chair caning.  Some crafters will be selling handmade items.  The ever-popular "Old Timey Toy" display will be in the tent adjacent to the Visitor Center.  Step-back in time, play with toys that your grandparents used, and have some fun!   
The Knoxville Area Dulcimer Club will present beginning dulcimer workshops throughout the day.  Classes will be held at 9:00, 10:00, and 11:00 a.m. and 1:00, 2:00 and 3:00 p.m.  Dulcimers will be available or you can bring your own.  Registration is the day of event.
Storytelling begins at 1:00 p.m. with festival storytellers sharing family oriented stories under the big tent across from the Visitor Center.  At 3:00 p.m., there will be an open mike for festival goers and local school storytelling clubs to share stories.  Music concerts begin at 5:00 p.m. with the Knoxville Area Dulcimer Club, followed by the Bluegrass group Country Ties at 6:30 p.m. 
The climax of this year's festival will be the evening ghost stories from 8:00 p.m. until 10:00 p.m.  Four storytellers from around the country will present their best ghost stories.  A series of "not-too-scary" stories are first for the young and faint of heart followed by scarier stories for brave folk. 
In support of the Haunting in the Hills Storytelling Festival, the Appalachian Arts Council will be raising money through donation boxes and a silent auction.  This year's silent auction will feature items from demonstrating crafters, local businesses and area artists.  Bidding on auction items will begin at 10:00 a.m. and close promptly at 6:00 p.m.  All monies raised through donation and the silent auction will be used to support the Haunting in the Hills Storytelling Festival.
Bring the entire family to spend a special day on the Cumberland Plateau!  Please remember to dress appropriately for the weather and to bring a flashlight, a blanket for sitting on the ground, insect repellent, and snacks or drinks.   Food and refreshments will be available for purchase throughout the day.  Picnic facilities are nearby.
For further information or directions, call the National Park Service Visitor Center at (423) 286-7275.
All times are Eastern Daylight Savings Time.