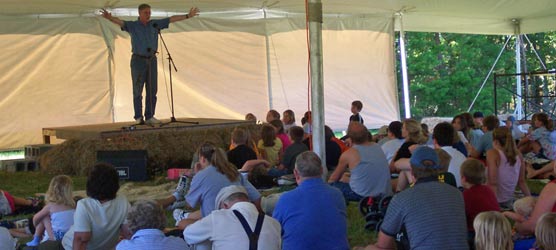 News Release Date:
September 15, 2014
Contact: Matt Hudson, 423-569-9778
This Saturday, September 20, marks the 22nd year the Big South Fork National River and Recreation Area has hosted the Haunting in the Hills Storytelling Festival at the Bandy Creek Fields. Superintendent Niki Stephanie Nicholas said, "This year's event promises to be the best one yet! Storytellers, traditional crafts, ranger talks, wagon rides, good music and good food. There really is something for everyone to enjoy." The festival starts at 10:00 a.m. (ET) and continues until 10:00 p.m. that night.
This year's storytelling line-up includes David Claunch, Elizabeth Ellis, Faye Wooden, and Joyce Slater. Claunch uses a unique conversational style of storytelling, delivering the wisdom of the old folk tales and the universal truths of the human experience. Ellis' stories are filled with hilarious and poignant honesty, delivering down-home wisdom, southern style. Wooden transports listeners of all ages into other worlds by the power of her imagination. Slater shares stories about family and community that reach beyond the boundaries of race, gender, and religion.
Park rangers will also deliver a series of entertaining and informative talks, including: Plants on the Plateau, What's Up with Wildlife, Geology of the Gorge, Water Everywhere, and Human Culture and Biodiversity: What the NPS is Doing to Promote the Plateau. Talks begin every half-hour, beginning at 11:00 a.m..
Bluegrass band Great Day in the Morning and the Knoxville Area Dulcimer Club will provide musical entertainment. Wagon rides, crafting demonstrations, and old-time toys and games will be provided throughout the day. For further information about the event or for directions to Bandy Creek, call the Bandy Creek Visitor Center at (423) 286-7275 or park headquarters at (423) 569-9778 or visit the Big South Fork website at www.nps.gov/biso. TheStorytelling Festival is on Eastern Daylight Time. The event is free to the public.