Share Your Big South Fork Heritage for the Ages: Opportunity to Copy Historic Photos
Date:
March 19, 2014
Contact:
Tom Blount
, 423-569-9778
Contact:
Dave Carney
, 423-569-9778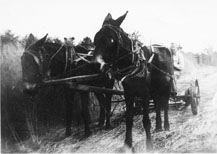 The Big South Fork National Recreation and River Area is interested in obtaining copies of historic photographs of the people, places and events that occurred in the Big South Fork area prior to the park's establishment.  The park museum collection contains over 300 oral histories of local people, and there are hundreds of old photographs relating to the area.However, the National Park Service recognizes that there are volumes of important photographs of the area that we would like to include in the permanent museum collection along with information identifying the people and places.
During the Spring Planting event at Big South Fork on Saturday, April 26, park staff will be available to copy historic photographs from the area.  Photo scanning will occur in the Interpretation & Education Building adjacent to the Bandy Creek Visitor Center from 9:00 a.m. to 3:30 p.m. (Eastern time).  You must be able to identify the places or people in the photograph for us to copy them, and you will need to sign a release for us to use the photos in documenting the park's history.  In return for scanning a photo, we will provide you with a free archival copy of your photograph (a copy on archival paper and permanent ink) and a digital copy if you would like.  For a digital copy, bring a CD or a flash drive or your email address.  So bring us copies of the old home place, the family photos and the outings so we can scan and copy those photos for permanent records in the Big South Fork museum collection.  Don't forget to bring information on the dates, names and places in the pictures.
We appreciate the opportunity to learn about your history and the history of the area.  For more information contact Big South Fork NRRA at (423) 569-9778.
Last updated: April 14, 2015