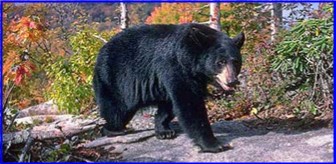 News Release Date:
June 5, 2013
Contact: Sherry Fristchi, 423-286-7275
Contact: Effie Houston, 423-569-9778
There will be a program on "How to Keep Yourself Safe and the Bears Out of Trouble" at the Big South Fork National River and Recreation Area's Bandy Creek Campground on Saturday, June 15, at 7:00 p.m. (EDT).  This evening program about black bears will be held at the Bandy Creek campfire circle.
People of all ages can learn how to keep safe in bear habitat of Big South Fork and the surrounding area and gain an understanding of how human behavior can impact bear behavior.  Visitors will learn what to do if they see a black bear, how to store food at a camp site, and how to "bear-proof" private property.
The campfire circle can be found by entering Bandy Creek Campground and turning left toward Area A.  Across the road from the swimming pool parking lot, a trail leads to the campfire circle.
For more information, contact the Bandy Creek Visitor Center at (423) 286-7275.