Date:
November 7, 2007
Contact:
Steven Seven
, 423-569-9778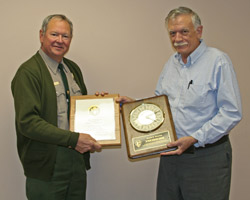 In a recent ceremony National Park Service employee Ronald J. Cornelius was recognized for 40 years of service with the Federal Government and the National Park Service.
Mr. Cornelius began his career with the National Park Service in 1970 following four years of military service in the United States Air Force. Serving as a Law Enforcement Ranger Mr. Cornelius worked on the Blue Ridge Parkway (1970-1974), at the Everglades National Park (1974-1976) and the Great Smoky Mountain National Park (1976-1983).
Following his move to Big South Fork National River and Recreation Area in 1983, Mr. Cornelius has served as the parks Minerals Management Specialist, the Chief of Resource Management and most recently as the Geographic Information System Specialist.