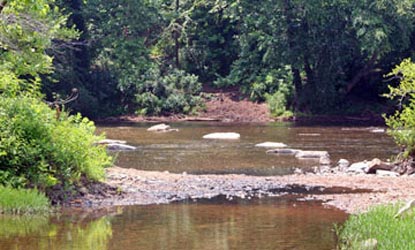 News Release Date:
June 29, 2007
Contact: Steven Seven, 423.569.9778
Big South Fork National River and Recreation Area has recently completed marking the first of two horse trail crossings of the Big South Fork River. Using a number of large sandstone boulders the trail corridor has now been delineated as it crosses the Big South Fork River at Station Camp. Similar plans call for the delineation of the trail crossing at Big Island early next year.
It has been found that the rocky shoals at both Station Camp and Big Island are important habitat for a number of fish and freshwater mussels which are found in the Big South Fork River. The delineations of the trail crossings at Station Camp and Big Island will serve as a visual guide for visitors to cross the river and will promote the protection of the parks aquatic resources.
With the trail corridor now clearly shown across the entire river both horseback, bike and hiking traffic will be limited to a single narrow section of the shoals, which is the location of the original ford. Containing foot and horse traffic to a single narrow corridor will serve to minimize the destruction of fish and mussel habitat, reduce the crushing of live mussels and protect mussel species living outside the trail corridor.
In addition to the marking of the Station Camp and Big Island river crossings, park officials are also planning to "harden" the approaches to these river crossings by using filter-fabric, gravel and inter-locking pre-formed concrete blocks. The concrete and gravel provide a durable substrate with sure footing and will reduce the mud and silt that now washes from the trail into the river. Once completed the hardening will improve trail access to the river, improve the parks ability to maintain the access and improve aquatic resources by protecting important river habitat.
National Park Service regulations require that user groups stay on trails that are designated for the particular activity in which they are engaged. Horseback riders who venture out of the delineated trail crossings will be in violation of park regulations and subject to enforcement actions.