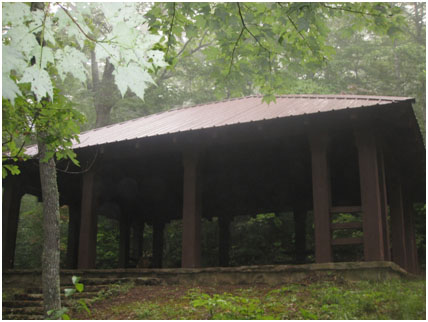 News Release Date:
August 18, 2011
Contact: Howard Duncan, 423-569-9778
The Big South Fork National River and Recreation Area is pleased to announce a ribbon cutting ceremony to celebrate the rededication of the picnic shelter at Yahoo Falls Picnic Area. Repairs to the shelter were recently completed by National Park Service personnel with assistance from inmates from United States Penitentiary McCreary. With the exception of replacing the wood shingles with metal roofing, the structure was restored to its original condition. The shelter was built in the 1960s as part of the original development of the Yahoo Falls area. The site was originally developed by the U.S. Forest Service when the area was known as the Cumberland National Forest. The forest was renamed the Daniel Boone National Forest in 1968. The land was transferred to the National Park Service for inclusion in the Big South Fork NRRA in 1987. The Yahoo Falls area is located off of Route 700, northwest of Whitley City, Kentucky.

The dedication is scheduled for 9:00 a.m. on Tuesday, August 30, 2011. The public is invited to attend. For further information, contact Big South Fork Headquarters at (423) 569-9778.