Date:
October 13, 2006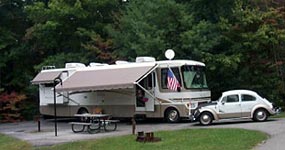 Big South Fork National River and Recreation Area is proposing to increase the fees currently charged for camping and consolidate the fees for use of the Bandy Creek swimming pool. 
These increases represent less than a 10% price increase and are the first increases we have enacted since 2003.  The proposed price changes are based on a fee comparability study conducted this spring involving similar local private operations.  The proposed increases will bring Big South Fork NRRA more in line with the price structure of the local community and the businesses that are similar in nature to the Park's.  This price adjustment will remove any possibility of the park unintentionally undercutting local businesses.
Through the Federal Lands Recreation Enhancement Act Big South Fork NRRA will also be utilizing the increased revenues to improve visitor related park operations and facilities.  Work will continue on upgrading the condition of trails and on the implementation of the new trail blazing system that was initiated in the spring of 2006.  The park will also continue to upgrade bulletin boards to better inform park visitors and to provide critical park and safety information.  These programs are only two of the many areas that are currently benefiting from the collection of recreational fees and which enhance the quality of the experience shared by visitors while visiting Big South Fork NRRA.
If you have any comments or questions about proposed price change, please don't hesitate to contact the park Superintendent by writing, Big South Fork Superintendent, 4564 Leatherwood Road, Oneida, TN 37841, by calling at 423-569-9778 or by emailing the park at e-mail us.