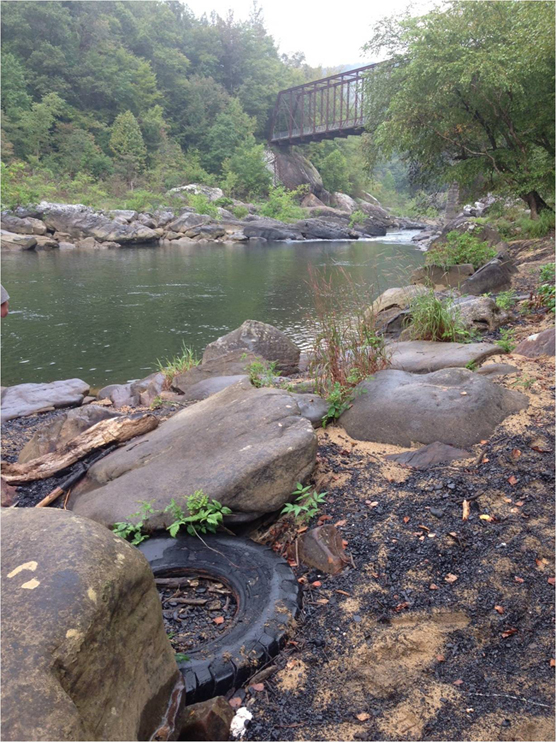 News Release Date:
November 4, 2013
Contact: Effie Houston, 423-569-9778
Contact: Dave Carney, 423-569-9778
The Big South Fork National River and Recreation Area is sponsoring a clean-up day to focus on the O&W Road in the park on Saturday, November 9, 2013.  (The clean-up was originally planned for the week before but the clean-up date had to be moved due to conflicting activities).
Start the day at 8:30 a.m., Eastern Time, by signing up at the park entrance on the O&W Road or in advance by calling (423) 569-2404, extension 228.  The park entrance on the O&W Road is less than a mile west of the intersection of Toomey Road and O&W Road.  At noon park staff will be hosting a hamburger and hotdog cookout for all volunteers.
The O&W roadbed provides a wonderful hiking, biking, and riding access to the Big South Fork of the Cumberland River.  It follows the former rail line of the Oneida & Western (O&W), a short coal and goods hauling railroad that ran between Oneida and Jamestown, Tennessee.  The railroad was prosperous during the 1920s, hauling coal and lumber, and provided groceries, mail, and passenger service to residents along the O&W in the remote gorges and coves of Scott and Fentress counties; however, the rail line was abandoned in 1954.
Volunteers are asked to bring water, insect repellent and sun block and wear sturdy shoes.  Trash bags and gloves will be provided by the park.  At noon the park will be grilling hotdogs and hamburgers for an appreciation lunch.  Volunteers are welcome to bring a side dish if they like.
For more information, you may call Effie Houston, Volunteer Coordinator, at (423) 569-2404, extension 228.