Date:
December 24, 2008
Contact:
Jeannine McElveen
, 423.569.9778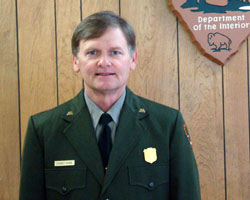 The National Park Service (NPS) has selected Mr. Stennis  R. Young to be the new superintendent of Big South Fork National River and Recreation Area, which is headquartered in Oneida, Tenn.  Young is currently the Assistant Superintendent of the Natchez Trace Parkway that traverses the states of Mississippi, Alabama and Tennessee.
He will report for duty at Big South Fork on January 20, 2009.
"We are delighted that Stennis will be taking on the superintendency at Big South Fork," said David Vela, Director of the National Park Service's Southeast Region.  "He brings 29 years of NPS knowledge and experience and will be a great asset to this wonderful Park, its resources and the communities it serves."
Encompassing 125,000 acres of the Cumberland Plateau, Big South Fork National River and Recreation Area protects the free-flowing Big South Fork of the Cumberland River and its tributaries. Straddling the states of Kentucky and Tennessee, it boasts miles of scenic gorges and sandstone bluffs.  The Park is rich with natural and historic features and has been developed to provide visitors with a wide range of outdoor recreational activities.  Congress directed the establishment of the Big South Fork National River and Recreation Area in 1974. 
Young began his 29-year NPS career after graduating from Mississippi State University with a Bachelor of Science degree in Civil Engineering.  In addition to his current position, other titles he has held at the Natchez Trace Parkway include; Park Civil Engineer, Supervisory Civil Engineer and Chief of Maintenance.  His work was instrumental in the completion of the Parkway in 2005 and during his service there almost 150 miles of new roadway were constructed.  His many contributions to the design, construction, operation, and maintenance of the Parkway resulted in it winning numerous regional and national awards. He is a licensed Professional Engineer and Land Surveyor.
 "I am honored to have been selected to be the new superintendent at Big South Fork," Young said.  "It is a wonderful resource with unique natural beauty and a rich cultural heritage.  I look forward to working with the Park staff and with our neighboring communities to both preserve the resources and provide for healthful outdoor recreation.
Young grew up in Mathiston, Miss., and is a second generation NPS employee.  His father worked for more than 30 years in the Natchez Trace Parkway's Maintenance Division.
Young and his wife, Suzette, reside in Tupelo, Miss.  They have two grown children, Tyler and his wife Mollie, and Summer, a recent graduate of Mississippi State University.