New Site Visit Date for Persons Interested in Operating Charit Creek Lodge within Big South Fork National River and Recreation Area
Date:
October 29, 2013
Contact:
Cherrie Brice
, 404-507-5637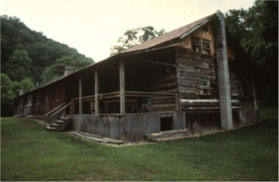 The National Park Service has issued a prospectus soliciting for proposals in response to a business opportunity to operate overnight rustic lodging, food and beverage, retail and horse stabling service at Charit Creek Lodge within the Big South Fork National River and Recreation Area located in Oneida, Tennessee.  The term of the new concession contract will be for ten years.  Interested persons may see the prospectus on the internet at http://www.concessions.nps.gov/biso001-14.htm or may get a printed prospectus package by contacting Cherrie Brice, Commercial Services Specialist, Southeast Region, or e-mail us.
Due to the U.S. government shutdown, a previously scheduled site visit has been rescheduled.  All interested parties are invited for a site visit on Thursday afternoon on November 21, 2013; please RSVP for the site visit
e-mail us
.