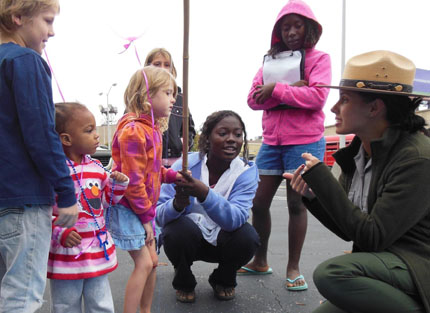 News Release Date:
April 20, 2015
Contact: Tom Blount, 423-569-9778
Contact: Matt Hudson, 423-346-6294
Have you ever wanted to talk with a geologist, botanist, biologist, etc. about the natural and cultural resources of the Big South Fork National River and Recreation Area or ask experts questions about resources you have seen? National Park Service resource specialists will give presentations during the Spring Planting and Music Festival, Saturday, April 25. The talks will be presented at the Bandy Creek area from 10 a.m. to 12:30 p.m. (ET) and include:
10:00- 10:30 - Protection and Recreation: Visitor Use and Resource Protection
10:30- 11:00 - A Stroll Through Time: Geology and Past Mineral Extraction on the Plateau
11:00- 11:30 - Recreation in Mining Areas, How to Identify Safety Issues and Stay Safe
11:30- 12:00 - Sentinels of Water Quality: The Importance of Mussels in Big South Fork Streams
12:00- 12:30 - Plant Secrets: Cool Facts, Uses and Historical Significance
Bring the family and learn more about the Big South Fork. We look forward to the opportunity to share information and learn from you what you are observing in the park. For more information, contact Bandy Creek Visitor Center at (423) 286-7275.