Date:
September 21, 2012
Contact:
Niki Stephanie Nicholas
, 423-569-9778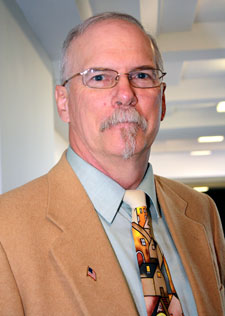 Washington - The National Park Service has awarded the 2011 Appleman-Judd-Lewis Award for excellence in cultural resource stewardship. Included in this year's recipients is Tom Des Jean, Archeologist at Big South Fork National River and Recreation Area and Obed Wild and Scenic River. The awards were given by National Park Service Director Jonathan B. Jarvis in a September 19 ceremony at the Department of the Interior headquarters in Washington, D.C.

"Preservation of our nation's historic resources is one of the key missions of the National Park Service," said Director Jarvis. "The passion, dedication and innovation of these individuals will benefit not only the resources in their own parks, but will serve as a model and inspiration for other projects throughout the National Park System."

The Appleman-Judd-Lewis Awards recognize expertise and outstanding contributions to cultural resource stewardship and management by permanent full-time employees of the National Park Service. Offered annually, the awards were created to encourage creativity in cultural resource stewardship and management practices and projects, particularly those that may serve as examples or models for programs service-wide. Established in 1970, the awards are named for three distinguished former National Park Service employees: historian Roy E. Appleman, historical architect Henry A. Judd, and curator Ralph H. Lewis.

Tom Des Jean received the award for Cultural Resource Management because his archeological investigations and research made significant contributions to the knowledge and protection of archeological resources at Mammoth Cave National Park, Shiloh National Military Park, Cumberland Gap National Historical Park, Obed Wild and Scenic River and Big South Fork National River and Recreation Area. He has authored ten published research or study papers, co-authored seven published research studies, authored 21 un-published research studies, co-authored five unpublished research studies, and authored or co-authored 15 research papers presented at various professional conferences. Although the majority of these papers and presentations deal with the results of archeological studies at various sites in the National Park Service, Tom's writings cover other cultural resource topics, including niter mining, history of the Stearns Coal and Lumber Company, Civil War effects on local communities, moonshining, and African Americans on the Cumberland Plateau.