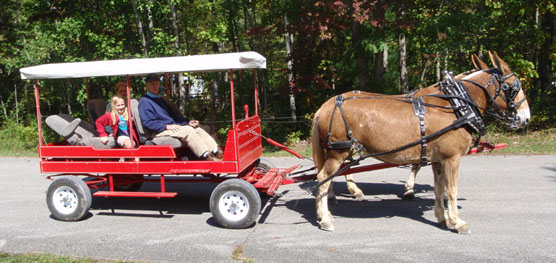 News Release Date:
February 14, 2013
Contact: Howard Duncan, 423-569-9778
The Big South Fork National River and Recreation Area will begin a pilot project to allow wagons on the O&W trail on a limited basis. The pilot project will be used to gather data to determine if the use of wagons on this route is practical and desirable.
"There have been numerous requests from park visitors to use wagons on the O&W. This pilot project will allow us to gather information to see if the use of wagons can or should be allowed on a permanent basis," stated Superintendent Niki Stephanie Nicholas.
Wagons will have access points at Mill Creek, Zenith, and Tar Kiln Trail.During the pilot project, wagon use will be restricted to Monday through Friday only. The route will continue to be open to horses, mountain bikes and persons on foot seven days a week.
Persons wishing to use wagons on this route will be required to stop at Big South Fork park headquarters (4564 Leatherwood Road, Oneida, Tennessee) between Monday through Friday between 9:00 a.m. and 4:00 p.m. and sign out a key that will allow access through the gates at these locations. Persons signing for the key must agree to the conditions of use.
For more information about the pilot project to assess wagon use on the O&W trail, call the Big South Fork headquarters at (423) 569-9778.