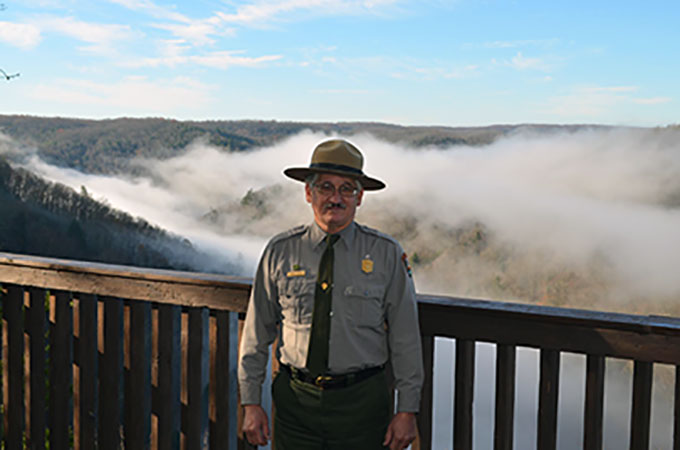 News Release Date:
December 1, 2015
Contact: Matt Hudson, (423) 346-6294
National Park Service Ranger Howard Duncan will retire on December 31, 2015, after 30 years at Big South Fork National River and Recreation Area. Duncan is a life-long resident of the Big South Fork area and has always had a deep personal connection to the lands that now make up the park, which he began exploring at an early age. He started his career as a classroom teacher and elementary school principal in his native Fentress County, Tennessee. He holds a bachelors degree and a Masters Degree in Education from Tennessee Technological University.
Duncan began his National Park Service career at Big South Fork in 1985, as one of only two interpretive rangers at the park. During his time at Big South Fork he has served as a frontline interpreter, as the park's Historic Weapons Supervisor, as Branch Chief of Visitor Services and most recently as the Education Specialist for Big South Fork and Obed Wild and Scenic River. In addition to his primary duties as an interpretive ranger, he served for over twenty years as a wildland firefighter. During that time he made numerous trips to the western states and assisted with many local wildfires and prescribed burns. He was also involved in numerous search and rescue efforts over the years. Duncan assisted with the development of the roads and trails plan as part of the park's first General Management Plan and helped write the park's first statement for interpretation and long range interpretive plan. He was also closely involved in many park special events such as the Haunting in the Hills Storytelling Festival, the Spring Planting Festival and the Blue Heron Ghost Train. 
Most visitors to the park will remember him for his engaging and informative interpretive programs and for the high quality personal service which he delivered. "Howard's depth of knowledge of the park and its history, and his institutional memory of the Big South Fork are truly amazing and will be greatly missed," said Superintendent Niki Stephanie Nicholas.