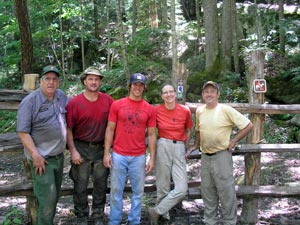 News Release Date:
March 27, 2009
Contact: Steve Handly, 423.569.2404 ext 318
Big South Fork National River and Recreation Area is looking for volunteers to join park trails crews to learn trails repair methods in a single-day volunteer training and restoration effort for America's public lands. 
Local volunteers from will roll up their sleeves and devote the day to learning methods of trails maintenance at Big South Fork NRRA as part of the annual Big South Fork Trails Volunteer Day on Saturday, April 4. Methods of cleaning and repairing water bars, brushing out the "door" width of the trails, and safety will be covered.   Volunteers will practice these methods on various trails in the park. This is a chance to help make public lands in local communities safer and more sustainable with a volunteer initiative.                    
Volunteers will have the opportunity to use these skills during National Trails Day on June 6, 2009; Public Lands Day on September 26, 2009; and other volunteer days throughout the year.

Meet at 8:30 a.m. Eastern Daylight Time at the Big South Fork NRRA maintenance yard on Saturday, April 4, 2009.   Come prepared to work and bring gloves to avoid blisters.  This event will be held rain or shine.  For more information, please call Wally Linder at 423-569-2404, ext. 321 or the Bandy Creek Visitor Center at 423-286-7275.