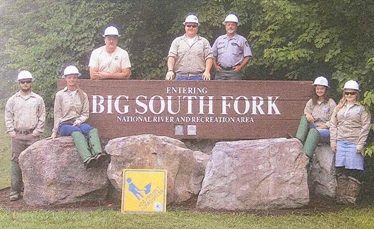 News Release Date:
August 11, 2014
Contact: Wallace Linder, 423-569-9778
Contact: Dave Carney, 423-569-9778
Eight high school students from McCreary County recently finished the summer working on a Youth Conservation Corps (YCC) team at the Big South Fork National River andRecreation Area.
The crew members were selected from McCreary County High School and included Prestin Cox, Caleb Dobbs, Megan Maxwell, Jacob Tucker, Kayli Tucker, Samantha Whigham, Billy Williams, and Sierra Winchester. These young adults spent this summer working alongside crew leaders Donald Daugherty and Tommy Chambers as well as other National Park Service employees.  The crew spent the summer rehabilitating sections of the Yahoo Falls Trail.  Their work included repairing retaining walls and steps and cleaning up the picnic area.
The Youth Conservation Corps is a summer employment program for young men and women, ages 15 through18, to work on projects to protect public lands. The Youth Conservation Corps program is one that trains young people and provides outdoor work that is supervised by a trained crew leader. Participants gain valuable professional experience working on National Park Service lands, and get to learn how to use tools, safe work habits, team work, and how conservation projects benefit the environment, and protect cultural and historical resources.
For further information about this program and its accomplishments, call Dave Carney at (423) 569-9778.