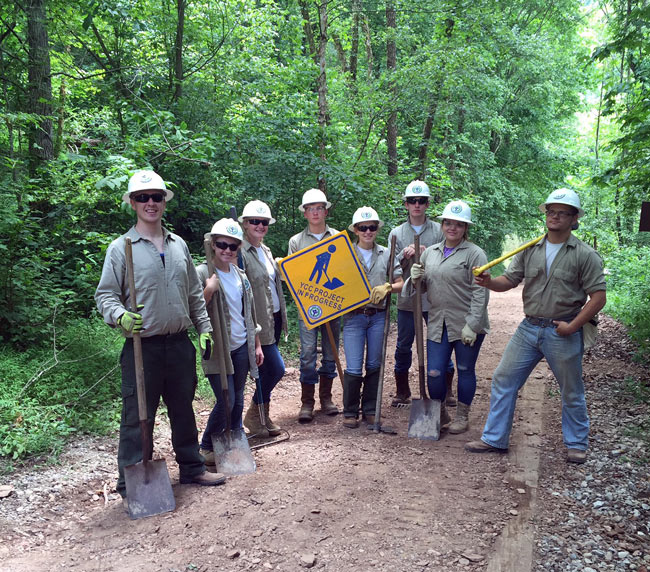 News Release Date:
September 13, 2016
Contact: Johanna Wheeler, (423) 569-9778
Contact: Christopher Derman
Eight high school students from McCreary Central High School recently finished the summer working on a Youth Conservation Corps (YCC) team at Big South Fork National River and Recreation Area in Stearns, KY. This year's Kentucky crew members included Hailey Anderson, Molly Grundy, Donovan Lay, Brittany Meadows, James Parman, Nathan Prosser, David Sampson and Keela Stephens. The young adults spent nine weeks this summer working alongside National Park Service crew leaders Donald Daugherty and Ronnie Bennett. 
This year's Kentucky crew members worked on a number of projects, including the complete rehabilitation of the canoe launch at Blue Heron. The YCC team completed the construction and repairs of trail bridges along the Sheltowee Trace and the Kentucky Hiking Trail. Crews rehabilitated sections of trails along Blue Heron Loop Trail, Yahoo Falls Loop Trail, Sheltowee Trace and repaired multiple trail signs. The team finished their summer forming and pouring concrete pads for food storage containers at Alum Ford Campground.
The Youth Conservation Corps is a summer employment program for young men and women, ages 15-18, to work on projects to protect public lands. While under the supervision of professional crew leaders, the YCC program provides both training and professional outdoor work experience on National Park Service lands. Youths learn how to use tools, safe work habits, teamwork, and how conservation projects benefit the environment and protect natural and cultural resources.
For more information about the Youth Conservation Corps, please use the following link: https://www.nps.gov/gettinginvolved/youthprograms/ycc.htm.