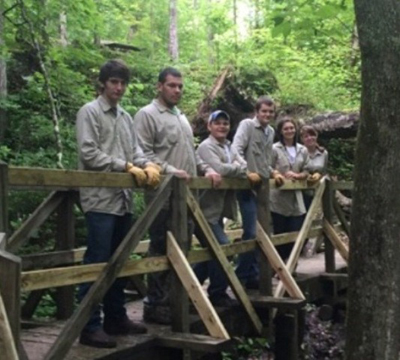 News Release Date:
August 21, 2015
Contact: Wallace Linder, 423-569-9778
Contact: Chris Derman, 423-569-9778
Six high school students from McCreary County recently finished the summer working on a Youth Conservation Corps (YCC) team at the Big South Fork National River and Recreation Area.
The crew members were selected from McCreary County High School and included Zachary Newsom, James Parman, Cheyenne Perry, Nathan Prosser, Kayli Vanover, and John Walls. These young adults spent this summer working alongside crew leaders Donald Daugherty and Randy Ross as well as other National Park Service employees. The crew spent the summer clearing the section of the Sheltowee Trace Trail from Alum Ford Campground to Cotton Patch Shelter; they also rebuilt the Alum Hiking Trail Bridge and rehabbed portions of Blue Heron Loop Trail.
The Youth Conservation Corps is a summer employment program for young men and women, ages 15 through 18, to work on projects to protect public lands. The Youth Conservation Corps program is one that trains young people and provides outdoor work that is supervised by a trained crew leader. Participants gain valuable professional experience working on National Park Service lands and learn how to use tools, safe work habits, teamwork, and how conservation projects benefit the environment and protect cultural and historical resources.
For further information about this program and its accomplishments, call Wallace Linder at (423) 569-9778.