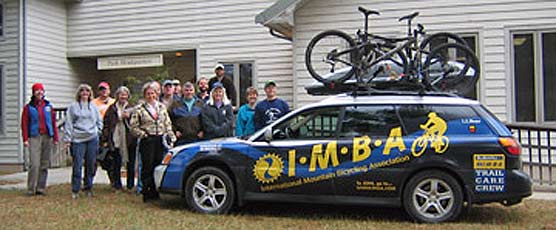 News Release Date:
March 21, 2005
Contact: Steven Seven, 423.569.9778
At the invitation of Joe Cross and the Big South Fork Mountain Bike Club, the International Mountain Bicycling Associating (IMBA) Trail Care Crew has recently made their way to Big South Fork National River and Recreation Area (NRRA).
Once here, the Subaru/IMBA Trail Care Crew provided both classroom training and on-the-ground building in support of bike trails in Big South Fork National River and Recreation Area.
The Trail Building School was attended by local bike club members, park staff, and half-dozen local equestrians all interested in learning more about maintaining the hundreds of miles of trails open to users in the park. Following some classroom work the weekend's trail building activities focused on re-routing a section of fall-line trail, and replacing it with single-track.
On Saturday, mountain bikers, National Park Service employees, and horse riders worked side-by-side to construct nearly 600 feet of new trail. While on Sunday, a few hardy souls trudged through temperatures in the mid-30s, complimented by a steady rain, to close and reclaim 500 feet of steep, eroded fall-line trail. By installing check dams, scarifying compacted soil, and covering the tread with leaf litter, the reclamation efforts should keep users off and help the old trail to recover more quickly.